Taylor Swift
Folklore
(Taylor Swift)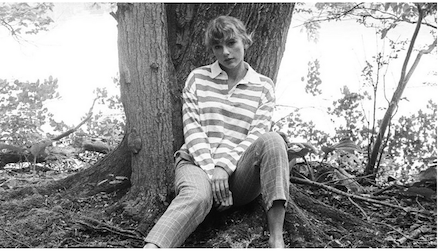 Taylor Swift surprised fans with her eighth studio album in late July, and as expected – many fans and this writer think it's her best. Swift heavily strays away from her history of pop radio hits with her first alternative album, collaborating with Jack Antonoff, who has worked closely with the singer for years, The National's Aaron Dessner (who co-wrote 11 of the 16 tracks), as well as Bon Iver's Justin Vernon, who co-wrote and accompanied Swift on track 4's "exile." Writing collaborations also include mystery man William Bowery, who many suspects to be Swift's boyfriend, actor Joe Alwyn. Folklore ventures into a brand new genre for Swift while maintaining and stunningly improving in her ever so familiar writing style, which helped earn her the Billboard title for Artist of the Decade.
The album also seems to be a complete 180 from Swift's 2019 album Lover, which featured heavy pop vocals and contagious choruses, instead taking a more minimalist approach, with heavily used piano and strings. Folklore is seemingly Swift's first album that is free of a track crafted for radio success, and arguably her best writing despite only being written in four months. The album can best be compared to her 2012 single "Safe & Sound" featuring The Civil Wars, combined with the lyrical genius of her hard-hitting ballads present on her fourth studio album and fan-favorite, Red, a musical match made in heaven, or rather, quarantine. Folklore seems to be an album partially based on loose universal concepts rather than the intricate inner workings of Swift's own experiences and relationships, proving Swift to be a storyteller first and foremost. "the last great american dynasty" is the timeless standout displaying this talent, telling the tale of the late mid-century socialite and millionaire Rebekah Harkness, who owned and lived in the Rhode Island beachfront mansion Swift purchased in 2013.
This song, in particular, seems to provide the richest imagery present on the album while highlighting the harsh treatment of bold women in society, a theme she revisits more personally later in "mad woman." This narrative ability that Swift possesses also plays out in a teenage love triangle. Although not confirmed by Swift, this story seems to continue in songs "cardigan," "august," and "betty." Starting with an acoustic riff and harmonica accompaniment, "betty" is reminiscent of the singer's country roots. Telling the story of 17-year-old James from his perspective, Swift sings accounts of his attempt to win Betty back after his affair with an unknown girl. The first single "cardigan" tells the story from Betty's perspective, relaying in the sorrow and dilemma after finding out about James' cheating.
"August" is seemingly from the perspective of the other woman, unveiling the frustration and temptations of falling for unavailable people, entangled in the spontaneity of adolescence. Swift also hasn't completely strayed from her electro-pop past, as displayed in "mirrorball." Taking to the likes of 1989's "Clean," "mirrorball" holds onto the whimsical themes of the album while managing to slip into a sound fit for the slow dance at an '80s prom or a midnight top-down drive, a nod to Jack Antonoff. The album manages to escape the drama of Swift's heavily publicized disagreements, aside from "mad woman," which fans theorize is a dig at former manager Scooter Braun and their now infamous relationship regarding the rights to her masters under Big Machine Records. The piano-heavy ballad written with Dessner highlights sexism and double standards within society, a theme she tackled with her 2019 single "The Man." "mad woman" takes on a far more sinister and angry tone compared to the upbeat pop songs of her previous albums, exploring the frustration of emotional gaslighting.
On nearly every Taylor Swift album, there seems to be at least one outwardly depressing song that stretches the ability of the songwriter. Folklore has two — Swift's Red duet "The Last Time" featuring Gary Lightfoot is to "exile (featuring Bon Iver)" as merlot is to a cabernet sauvignon. Equally as satisfying, but one is far more mature and developed. Justin Vernon's rich baritone voice compliments Swift's light and gentle approach while also displaying the conflict present in the song. After all, nobody writes a breakup song quite like Taylor Swift. "exile" is a much more blatant quarrel compared to "illicit affairs," a song more personal, and a melancholy version of the feelings displayed in "august." "illicit affairs" fits perfectly for the final scene of a devastating romance movie, almost reminiscent of Phoebe Bridgers. Swift not only delivers another top album – no small feat, but also demonstrates increasing maturity, both in her transcending themes and lyrical evolution.
*All track titles are stylized in all lowercase.
9 of 10
-Riley Vernon