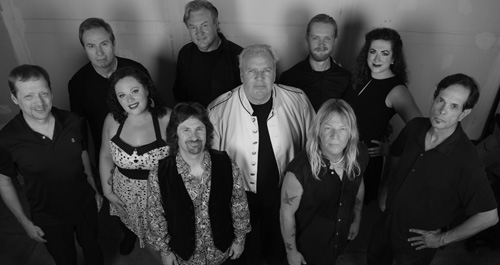 Following the blueprint of innovative hometown bands like Chicago, The Flock, and Ides of March, local ten-piece outfit Tynan is a band where horns are also de rigueur. Led by founder/guitarist/vocalist Tom Tynan, along with keyboardist/vocalist Ted Phillips, bassist/vocalist Hank Fields, guitarist/vocalist George Lemperis, drummer Derek Bernal, trumpeter Jeff Redmann, trombonist Ty Staehlin, saxophonist Doug Daniels and vocalists Eli Schiavo and Christina Kelley, Tynan combines a compelling blend of '60s psychedelia, '70s classic rock, '80s pop-rock and R&B – and they write compelling original songs, too.
Because of their unique ability to combine classic covers with memorable originals, Tynan has been one of Chicago's more sought-after bands for outdoor festivals, civic events, concerts in the park and at local clubs for several years. The band's covers of popular artists of the '60s, '70s & '80s — as well as their original compositions — are a big hit at events such as the Illinois State Fair, Taste of Joliet, the Peanut Butter & Jam Concert Series in Kenosha and many other local events.
Tom Tynan's vision for the band was to emulate his favorite artists, including Chicago and Joe Cocker, but to add a traditional Muscle Shoals Horn-type sound to beef up some of the cover material that wouldn't usually call for these types of instruments. After a chance meeting in 2007 at Frank's Place in Burbank where Ted Phillips was hosting a weekly jam night, Tynan told Phillips his vision. After hearing of Tynan's desire for horns, Phillips was immediately on board, and Tynan was officially born. "He started talking about the horns, and I'm a big fan of Chicago," Phillips explained to IE during a recent phone interview. "So, I said I'd give it a shot. It took a little while before we even got our first saxophone player in the band. And then it started rolling from there. We've been through a few horn players, but we finally got it to where we're at right now."
Tynan's first full-length album, Shirley Jeanne is named in honor of Tynan's mother who passed away several years ago. With its nine originals and six covers, Shirley Jeanne recently cracked the top 100 album chart in Italy, peaking at No. 94. While the band does justice to their cover songs, their originals sound fresh-yet-familiar. "We're not trying to be Chicago," Tynan said. "We do a bang-up job on any cover that we do, and we try to make them our own. I think the best songs tell a story. I've learned that you've got to grip somebody right away."
Recorded at Dark Horse Studios near Nashville and produced and engineered by Dave Hagen, the 15 tracks that grace Shirley Jeanne represent a slice of life to which every day people can relate. The opening song, "The Same World," written by keyboardist Phillips, carries a lot of weight with its infectious melodies, soaring vocal harmonies and reflective lyrics. "Even the covers that we do or the stuff that we write, we want it to be timeless," Tynan said. "I'd say that 99 percent of the stuff that the Beatles did if the Beatles came out today, it would work. So, much in the same vein, "The Same World" has a timeless message." The song's directive is just as relevant today as it was back in the early '90s when Phillips wrote it. "My brother wrote the lyrics, and I wrote the music for it," Phillips said. "I recorded it with a few (other) people, and it's changed so much over the years. But now that we've added the horns, it has a little bit of a taste from everybody [who's worked] on it. It's got that '80s feel to it. But I think the whole meaning of the song applies to a lot of things going on with the world today."
Tynan is known as a road band, performing at least 200 gigs a year. Although the local club scene boasts tons of bands playing covers, festivals and concerts in the park are Tynan's bread and butter when it comes to performing live where they get a chance to perform their original material. "We really enjoy the festivals in the park (series) because we're geared more towards the 40 and over the crowd," Phillips admitted. "Those are the people that we cater to because that's their music, whether it's the cover songs that we play or the originals. The originals sound like something from Chicago, so they appreciate it a lot more." Also, a live show is all about having a good time and interacting with your audience. "We want you to forget about your fears and have a few beers, and have a little fun," Tynan said. "When you go to a Tynan show, you know you've seen something cool, and at the same time, [it makes] you feel better. The goal is that you learn something, and you feel better when you're done. And I think that's a good thing. Life is tough enough by itself."
Timeless tracks "Long Train Runnin'" by the Doobie Brothers and, "The Letter" by Joe Cocker are staples in the Tynan live set. "When you see bands who've been at it for a long time, they have certain covers that just become a part of their [repertoire]. "Long Train Runnin'" has become a part of us," Tynan said. "It's a song that everybody knows. And if you haven't heard the live version — because that's how the Doobie Brothers do it now — if you haven't seen them in the last 10-15 years, it's a nice touch to what many people relate to as "Long Train Runnin.'"
Phillips says there's usually a common denominator when doing cover songs that get the "Tynan treatment." "If we're going to cover something by a band, we try to look at their live recordings of it, whether it's YouTube or whatever," he said. "If you're going to play a song, you've got to give it a little twist and a turn. Nobody wants to do it exactly like the record. They want to see what you've got. They don't want to see you imitate somebody else. They can put on the radio or play the CD if they want to hear that. So, we draw off all of those live experiences."
Although Shirley Jeanne was just released last year and is charting in Europe and its material is still fresh, the band has been steadily working on a new album. "Basically, the rest of this year we're working on the [new album]," Tynan said. "We have an interesting design for the cover. We're working on new songs to record for the album, and we're just trying to get better and better. We're going to go as far as we can. I don't know how far that it is, but if we can make Tynan a brand that's known everywhere, yay!"
Phillips also feels hopeful that things are looking up for the band and says that he also has a lot of ideas for the second album. "I've got a couple of things done," he said. "I've got a song that I kicked around for a while, and it's got a lot of changes for the people who might love that B-side of a great Yes single. I'm just hoping that I can get a little inspiration from the rest of the guys to update it a little bit because it has that '80s feel to it and I want to modernize it. We've got so much going on right now that it's kind of hard to get together. Everybody's got their day jobs, and then we play on the weekends. We've only got a couple of hours a week to rehearse, so we have to do a lot of stuff on our own. But I'm looking forward to doing another album."
Appearing: Willow Springs Festival on 8/11, Blue Chip Casino in Michigan City, IN on 8/24, River Grove Guering Fest on 8/28, and the Niles Italian Fest on 8/31.
-Kelley Simms
Tynan
Shirley Jean
(Self)
Tynan mines a rock and R&B horn-based tradition first blueprinted by Chicago stalwarts The Buckinghams, Ides of March and Chicago. Though plenty of local bands have competently covered these bands – sometimes to exhaustion, Tynan aims high and expands on their "Chicago sound" with a surprisingly melodic and competent collection of originals. Performing 200 shows a year has tightened up Tynan's musicianship and their razor-sharp musical chops here are impressive, especially on album starter "The Same World" powered by Ted Phillips' '80s throwback melodies and the band's staccato horn breaks. The title cut "Shirley Jeanne" is dedicated to band founder Tom Tynan's late mother, and his growling baritone mixes the best of Huey Lewis and Mussel Shoals, where drummer Ronnie Dicola and vocalists Christina Kelley and Eli Schiavo get a chance to add their musical muscle. "A Beautiful Mess" mixes soulful Stax style R&B with '60s psychedelics of the Chambers Brothers. Tynan is a band that makes a living covering classic bands, so Shirley Jeanne closes out with perhaps unnecessary but competent covers of Joe Cocker's version of "The Letter" and "Unchain My Heart," and a dynamic cover of Chase's "Get It On" (the song is also included on the Illinois Route 66 fundraising compilation). Undoubtedly the covers are included to please longtime fans, but Tynan's collection of original music stands on its own as one of the better local releases you'll hear this year.
8/10
– David Gedge
Category: Cover Story, Featured, Features, Monthly