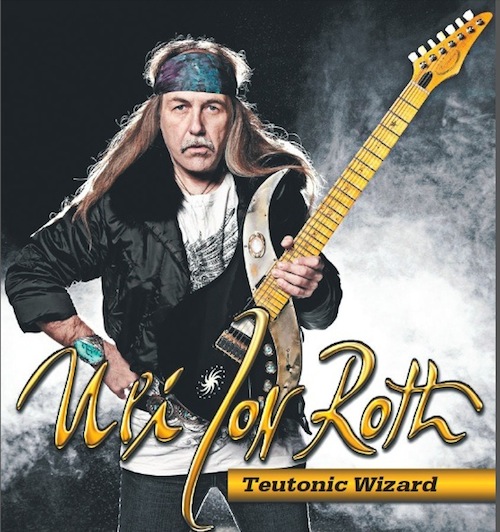 German guitar maestro Uli Jon Roth's 50th-anniversary tour – where he'll be performing selected highlights from his entire musical career – comes to Chicagoland Friday and Saturday. Roth's arrival in Chicagoland commences Friday, April 12 at The Forge in Joliet and concludes on Saturday, April 13 at the Arcada Theater in St. Charles.
The concert's two-plus hour setlist will feature material from Roth's former band Scorpions and solo material from his Electric Sun project. In addition, Uli will be playing his Metamorphosis Concerto based on Vivaldi's "Four Seasons" at a special limited admission pre-show VIP concert for diehard fans.
"It's quite a special tour because it's my 50th on-stage anniversary," Roth told IE's Kelley Simms during a recent phone interview from his adopted country, Wales. "I had my first ever gig when I was 13 in 1968. We get to do a special program to reflect that with all kinds of highlights from my entire musical journey."
The Electric Sun portion of the show, featuring selected tracks from all three records, will be especially exciting for Roth and his fans because he hasn't performed some of these songs live in over 30 years. "I remember playing Chicago back in '85 with Electric Sun, and that was quite a homecoming," Roth reflected. "That was our first and last show because that was also the year when I decided to stop the project. Electric Sun only had one American tour, so I decided to have another crow's look, and we're going to be doing a thing called Electric Sun Reborn, basically playing my favorites that evening in the first part of the show."
In recent times, Roth has successfully revisited the early music of his acclaimed Scorpions period (1973-1978), which resulted in the astounding Scorpions Revisited double CD and Tokyo Tapes Revisited DVD/Blu-Ray releases. The 50th Anniversary set will naturally include the best of Roth's early Scorpions material, including "The Sails of Charon," "In Trance," "Fly to the Rainbow" and many others.
"Originally when we started doing our Scorpions Revisited,  I looked at all that material, and some of that was almost alien to me because I hadn't played it for 40-something years," Roth said. "Then it came back to me, and most of it happened on stage. It's quite a joy to play them, and the audience is very happy every night, and, literally, I can say that in every country."
Roth will be joined by two additional guitarists, giving the band a triple threat of lead guitarists to do justice to all the soaring harmonies of the Scorpions and Electric Sun songs.
Although Roth brilliantly played Fender Stratocasters in his younger days while with the Scorpions, he's been exclusively playing his unique fretboard invention called UJR Sky Guitars since 1985, beginning with Electric Sun's Beyond the Astral Skies album.  When asked about these models, Roth explained that "The most important thing initially about these guitars was that they enabled me to play much higher than on a conventional guitar because I wanted more orchestral range." He continued, "That's where the shape originated from – because that shape allowed me to get access to the very highest frets. On Vivaldi's Metamorphosis, I could truly not play that on any other guitar because I'm playing all these pieces in the right key and the right octave, and the standard guitars are just too limited in that sense."
After his 50th Anniversary Tour concludes, Roth plans to write and record some new material that will keep him plenty busy in 2019.
– Kelley Simms
Appearing 4/12 at The Forge, Joliet and 4/13 at The Arcada Theatre, St. Charles.
Ed Spinelli captured UJR at The Arcada Saturday night. See his gallery
Category: IE Photo Gallery, Stage Buzz