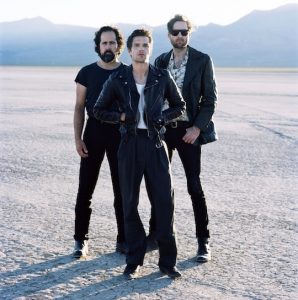 The Killers
United Center, Chicago
Tuesday, January 16, 2018
Just six months after headlining Lollapalooza, The Killers swung back through Chicago in support of Wonderful Wonderful, its fifth studio album and first in five years. The group may have stuck to a somewhat similar set list outside of extra emphasis on the current collection, but that didn't stop Brandon Flowers and the boys (plus three background singers) from filling up the majority of the United Center.
The near two-hour performance kicked off ever so appropriately with the towering title track and led right into the cheeky cockiness of "The Man" without a hitch, though the mounting adrenaline almost derailed thanks to some douchey dudes on the general admission floor. "People you can't fight," Flowers proclaimed, literally stopping the older "Somebody Told Me" mid-swing, but after a few more pleas to "be cool," the Las Vegas-bred players picked right back up at verse two and quickly got the train on track.
If the ability to effortlessly jump right back into the delectable dance rocker proved anything, it was just how polished The Killers have become after topping so many massive festivals and staging its own large scale tours for more than a decade. But as much as the guys have gained in professionalism, they've also lost some of the edge that came from the now iconic Hot Fuss era, instead becoming increasingly concerned with crafting super slick arena-filling anthems that have surely studied the likes of Bruce Springsteen and U2 (not to Bono and company's frequent photographer/video director Anton Corbijn, who's also the man behind much of The Killers' imagery).
None of that meant for a less entertaining show, and if anything, the grandiose delivery of additional recent cuts "Run For Cover" and "Rut" (along with streams of lasers and buckets of confetti), helped reach the most distant stands. However, it was hard to take the band or Flowers too seriously after he changed into a gold-sequined suit by an encore of the spiritually-charged "The Calling," especially considering it galloped to beats that were ridiculously reminiscent of "Personal Jesus" by fellow Corbijn collaborators Depeche Mode.
In between, the group did at least manage to keep everyone fist-pumping without a thought to the contrary, and smashes such as "Human," "Runaways," "Read My Mind" and "All These Things That I Have Done" were just a few examples of the many monstrous hits that have consistently dominated rock radio. By the time "When You Were Young" exploded with a shower of sparks and "Mr. Brightside" went all the way back to the beginning pinpointing exactly why the masses fell in love with this band in the first place, it was impossible not to scream along and cling to Flowers' parting thoughts that "life can be tough, but sometimes it goes the other way," which is precisely the direction that destiny is calling as The Killers keep ascending towards stadiums.
-Review by Andy Argyrakis, Publicity photo Anton Corbijn
Set List, United Center January 16, 2018 via Setlist.FM
Category: Live Reviews