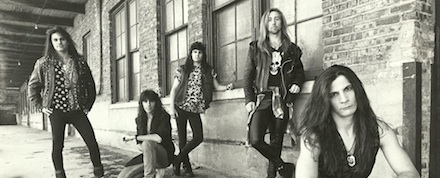 Do you remember Joker? The Chicago-based glam metal band of the late '80s/early '90s is making a comeback.
Joker had a dedicated local following when hairbands roamed the earth, and they cut their teeth at the famed Thirsty Whale in River Grove. The band was also in rotation on local radio outlets WVVX, WWBZ "The Blaze" as well as the national broadcasted ZROCK.
However, when it came time to release their third album, Cool Deal, like almost every metal band at the time, they found out that metal had been replaced by grunge and alternative rock. Due to this sudden musical shift, the band's record company at the time, Des Plaines-based Red Light Records, shelved the master tapes and the album was only – yes – released in Japan.
Twenty three years later, the band, in conjunction with Red Light Records and Pavement Entertainment, are reissuing Cool Deal. On Saturday, May 6, Joker will be doing a reunion show at Star Bar, where they'll be performing their "lost album" in its entirety, as well as some other classic Joker tracks.
Fortified by their original line-up of vocalist Tony Ingala, guitarists Joey Miroballi and Nick Sikich, bassist Brian Smolar and drummer Mike Stone, the band is ready to rock like its 1991.
"It took us a long time obviously, and we've been doing our own thing over the years," Ingala said. "But this is really a reunion. We have a great show planned. One of the reasons we wanted to play Star Bar is that they have a video screen behind the stage. We have over 300 hours of Joker videos from back in the day. And we're going to be showing those videos of us playing those songs from 1991-92 while we're playing the same song live right now. There's a lot of fans in the videos themselves. We're trying to pay tribute to our fans because they're the ones who have kept the interest in it to even make (this show) possible."
Ingala said rehearsals have been going great and his voice is in top-notch shape. "I have been blessed to be able to perform with multiple cover bands over the last 10 years doing all kinds of ranges of songs. Vocally I am in shape, which is really good. There's a couple notes that get a little crazy and if I would've known then (what I know now) I would've written something easier. To be honest, we haven't changed any keys to any songs and we're going at it in the same fashion as we did in 1991."
As far as the future of the band after this reunion show goes, Ingala said they'll have to play it by ear. "We actually have a lot of ideas floating around for Joker," he said. "Songwriting is absolutely in the mix because we'd like to modernize some of the stuff we've written over the years. More importantly, we do have new songs that we're working on now.
I'm not sure what the market has in store for us. But as long as there is a market and people are interested, then we're going to continue to do it."
Appearing 5/6 at Star Bar, Chicago Ridge.
– Kelley Simms
Category: Stage Buzz, Weekly