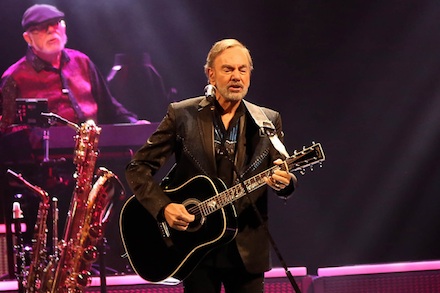 Neil Diamond
United Center, Chicago
Sunday, May 28, 2017
It didn't take a virtual "Carpool Karaoke" ride with James Corden, Jennifer Lopez, Tim McGraw, Faith Hill, John Legend and many others clamoring to get next to Neil Diamond at this year's Grammy Awards to prove that he was cool again (at least somewhat). For the last decade or so, the showbiz lifer's undergone a creative renaissance that stripped away any excessive glitz for a return to his singer/songwriter side thanks to some production restraint from tastemakers Rick Rubin (Johnny Cash, Kanye West, Adele), Don Was (The Rolling Stones, Van Morrison) and Jacknife Lee (U2, Taylor Swift).
However, just two years after rolling into the United Center, the Rock and Roll Hall of Famer with more than 125 million album sales filled it up all over again, not on the angle of new material, but rather, the triple disc retrospective set 50th Anniversary Collection (Capitol). Indeed, Diamond just joined an elite minority as an artist and writer to thrive through an endless stream of changing musical trends and at least as many presidents as the current one's quantity of late night tweets.
Before officially opening the vault, an 11-piece band and two background singers got the stage warm with "In My Lifetime" while the Diamond-shaped screen offered an overview of the veteran in action alongside the historical events they intersected across the last five decades. When the reel cued up to present tense, the brightly illuminated headliner finally popped up in the flesh, gallantly strumming along to "Cherry, Cherry" with graphics of that very fruit bouncing overhead and the wide-ranging audience (weighted a bit more heavily towards the graying generation) leapt out of their seats.
Come "Desiree," the 76-year-old got a closer look at that very crowd by strolling to both sides of the arena, and afterwards, thanked everyone for coming to all of his 43 shows in town thus far, including Navy Pier, Popular Creek and Chicago Stadium. Diamond also kept the tone topical when dedicating the poignant "Dry Your Eyes" to the victims of the Manchester terrorist attacks, though in spite of these increasingly troubled times, the lines "I'd like to say, we'll do okay" from the carefree and innocent "Forever In Blue Jeans" rarely sounded so reassuring.
Yet not everything the man in the blue and silver-studded shirt touched turned to gold, mainly "Be," "Lonely Looking Sky" and "Skybird" from the flop of a film *Jonathan Livingston Seagull,* none of which have aged particularly well or justified the exclusion of at least a dozen worthier selections. Instead, Diamond was better off with an ingenious reworking of the classic "You Don't Bring Me Flowers" with saxophone player (and Chicago's own) Larry Klimas bringing some instrumental "buttah" in place of the vocally irreplaceable Barbra Streisand.
The troubadour also dug out a reggae-swirled "Red Red Wine" and the jubilant "I'm A Believer," both of which he penned but went on to be massive hits for UB40 and The Monkees respectively. In terms of those he personally rode up the charts, "I Am…I Said" exhibited a mastery of the theatrical ballad, while the scream along "Sweet Caroline" (and its single reprise) still sounded "so good" no matter how many billions of times it's been performed.
Out of the several encores, the flag-adorned "America" was arguably the most impactful with Diamond acknowledging his immigrant grandparents and also saluting the countless men and women of the military for their bravery. In an era when this country is wrestling with its identity to the most extensive degree since the days of Alexander Hamilton, this enduring entertainer may not have provided all the answers over Memorial Day weekend, but as the life-affirming songs set in simpler times consistently hinted, this Diamond may very well be forever.
-Review and photos by Andy Argyrakis
Category: Featured, IE Photo Gallery, Live Reviews