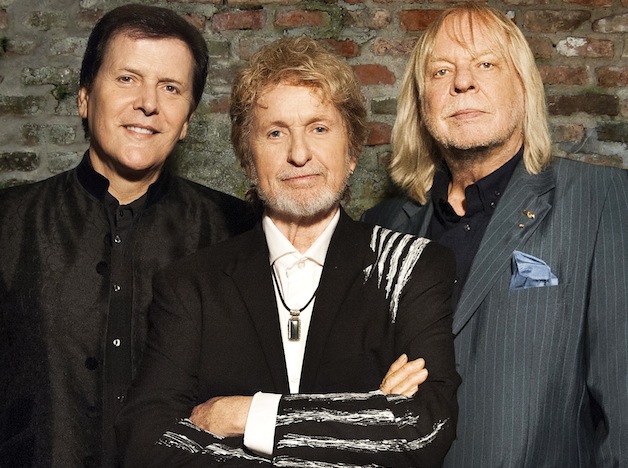 ARW  – Anderson, Rabin and Wakeman
Chicago Theatre
Saturday, November 5, 2016
Generations of Yes fans gathered to celebrate at the Chicago Theatre when principal members of two key line-ups combined forces for the first time since 1991's Union tour. Billed as ARW, Singer Jon Anderson and keyboardist Rick Wakeman from the classic '70s line-up that created progressive rock masterpieces Fragile and Close to the Edge were joined by guitarist/vocalist Trevor Rabin from the '80s pop powerhouse incarnation that produced 1983's 90125.
Spirits soared among the five musicians. Rabin was particularly joyful, crossing the stage more than once to embrace his bandmates. Wakeman's humor and local support were on display as he emerged in a sequined floor-length cape over a Cubs World Series Champions t-shirt that he had apparently purchased on the sidewalk outside the venue. Aged 72, Anderson was fit and in fine voice, sharing his merry smile throughout the evening.
Each player gave his all to material he hadn't recorded as part of Yes' shifting line-up. The show began with "Cinema," a song that began when 90125 was still envisioned as a Rabin-fronted project from a new band called Cinema without Anderson. Next came "Perpetual Change" and "I've Seen All Good People" from 1970's The Yes Album, the record preceding Wakeman's entrance into the line-up. By the time ARW tore into Fragile's epic "Heart of the Sunrise," Wakeman was more than ready to showcase his prowess on organ, Moog, and racks of other classic analog keyboards and sounds.
"We have to get into that dream sequence for a song we created in the '70s," said Anderson when introducing "And You and I." "Most of you were there," he added with a twinkle in his eye, gazing at a crowd that spanned all ages but skewed older. Anderson closed his eyes and drifted beatifically with the music while Rabin dug into Steve Howe's technically challenging guitar solos with relish.
Anderson paused between the pop highlight "Changes" and prog classic "Long Distance Runaround" to praise founding Yes bassist Chris Squire, who passed away in June 2015. "I'd like to take this opportunity to say thank you to the great Chris Squire," he said to cheers of agreement from the crowd. Bassist Lee Pomeroy tackled Squire's signature parts with respect and skill on bass features like "The Fish (Schindleria Praematurus)."
Anderson told many other stories to the crowd's delight. He described time spent on the island of Montserrat to record 1989's Anderson, Bruford, Wakeman and Howe album, recalling a late night when he and Wakeman "sneaked in" to Sir George Martin's Air Studios "after one too many orange juices." "And this is what happened after we hit the record button," said Anderson as he and Wakeman performed the wistful vocal-piano duet "The Meeting" alone together on stage.
The show concluded with encouragement. "There's a lot of craziness going on right now, but I heard that next year is going to be the year of bliss," said Anderson. "And I believe that." The band then tore into "Owner of a Lonely Heart," during which Wakeman left his keyboard podium with a new-wave era keytar to trade licks at center stage with Rabin. Wakeman gave a master class in rock organ during an encore of "Roundabout." "Give love! Give love!" repeated Anderson during the song's coda. Rabin offered one more bear hug to Wakeman afterward, and in return was engulfed by Wakeman's looming frame, cape and all.
– Review and photos by Jeff Elbel
Category: Live Reviews