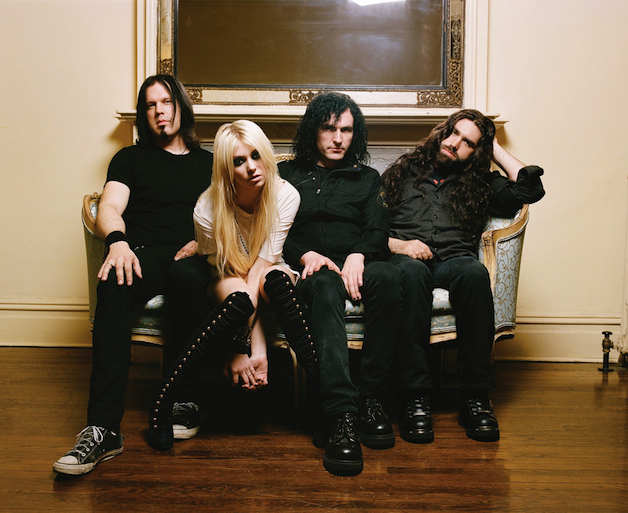 Batman had his recessed Batcave. Superman had his Arctic Fortress of Solitude. And rocker/actress/artist Taylor Momsen has her own off-the-map hideout, an idyllic place in an unspecified part of New England where she regularly goes to collect her thoughts, create new paintings and sculptures, and generally recharges her creative batteries. And going off the grid, she's found, is the only way to survive the hectic music business she entered when she first formed her metal outfit The Pretty Reckless in 2009, at the height of her five-season, TV-role popularity as Jenny Humphrey on the CW's hit show Gossip Girl.
The singer maintains an apartment in New York City – "A tiny little shithole on the lower East side," she sneers. But it's the serene existence of her country retreat that truly grounds her, and it's where she found the clarity to dig philosophically deep on her group's new third outing, Who You Selling For. "I like to go there after we've been on a long tour," she reveals. "Just because you're so surrounded by people on tour that it's nice to get away. And then when I feel like I've been there for too long and I get the itch for urban life, I go back to the city. And they're not too far away from each other, so it's not that bad – I can go back and forth pretty easily."
What's so special about said retreat? Momsen sighs. "It's very isolated, and it's very far away from people," she says, likening its location to something out of an early Stephen King horror novel — Salem's Lot, or The Shining, perhaps. "It's very small, very arty – I have an art desk, a couch, a bed, a TV, a piano, and a billion guitars lying around, in the kitchen and in the bathroom. There's lots of trees, and I'm not too far from water – I don't have a boat, but a friend of mine does. And I'll go out and just sit there. But just sitting in the middle of the ocean? That would be the most awesome, because it absolutely, literally would be the middle of nowhere." She pauses, quickly shifting into gallows humor mode. "Until a shark comes. And then it's all over."
On her own, Momsen putters around with only her dog – a dinky Maltese named Petal – for company. Not much wildlife on her property to distract her, either, although if you drive around a while, you'll see chickens, ducks, roosters here and there, owned by her nearest neighbors. Who, in fact, aren't really that near at all. Which suits her fine. Thanks to her thespian pursuits, she never had many friends growing up, and she wholeheartedly believes in the modern truism that everyone has an agenda, and it rarely includes you, so get used to it. "People are not to be trusted, but animals will love you until the day they die – they have no agenda," she says.
There are many watercolors, charcoal sketches, and sculptures sitting around this Renaissance woman's pad, too. But she refuses to have a gallery show or to even let anyone else see them. "It's the one artistic thing that is just mine, not for the world," she explains. "I do quite a bit of it, and I would say my art is abstract expressionism, kind of dark, I guess. I don't want to describe anything in detail, because, again, that's the one thing I have that's personal. But I wouldn't say that they have any light tones to them." She chuckles wickedly. "Uhh, kind of like our music. And I'll start something, and not be sure about it, and then come back to it later, And it is kind of like songwriting – it's just something that's therapeutic and keeps my mind open. And it helps with songwriting for me, just because it keeps your mind creative, even though it's just a hobby of mine." And no, she adds, she did not do the charcoal rendering of herself that adorns the cover of Selling. It's by a friend who wishes to remain anonymous, someone who heard new anthems like "Already Dead," "Oh My God," "Living in the Storm," and "The Devil's Back" and sketched some appropriately skeletal pieces. "And that one struck everyone – everyone picked that drawing as our cover, because it says so many things, and yet nothing at all," she says.
Momsen, now 23, has always been quite happy being alone. Maybe due to the fast-paced showbiz life she's always led. Born in St. Louis, she began modeling at age two, was signed to high-profile agencies like Ford and IMG, and appeared in campaigns for New Look, John Galliano, and Madonna's Material Girl fashion line. As a child actress, she secured coveted film parts like Cindy Lou Who alongside Jim Carrey in 2000's live-action version of Dr. Seuss' How the Grinch Stole Christmas. Soon, she was working with hip directors like Gus Van Sant (in Paranoid Park), which segued into her securing a slot on Gossip Girl in 2007, on which she appeared for four seasons before she gradually phased herself out. Disheartened fans might have thought it was a fluke, possibly some dilettante dabbling that would prove a momentary diversion, but she was serious about her pursuit of music. She left the program and hasn't accepted a role since.
On the surface, Momsen presented a playful front in the beginning, relying on campy stage outfits of corsets, thigh-highs, teetering stripper heels, and swaths of raccoon mascara. Today, she looks back at early shots of herself and shudders – What was she thinking? she wonders. But hey – she was only 15 at the time, and her fashion faux pas were totally genuine, she says, and representative of who she was at the time. "But I look back at it now and go, 'Man – that was a bad outfit decision right there!'," she chuckles. But behind the scenes, she had hooked up with producer Kato Khandwala, and was methodically trying to find her sound over a two-year period, which led her to start collaborating with guitarist Ben Phillips. They formed a songwriting team, and then – with the addition of bassist Mark Damon and drummer Jamie Perkins – an actual band. By 2010, The Pretty Reckless had issued its debut Light Me Up album, led by flagship hit single "Make Me Wanna Die," in which Momsen transformed into a snarling, sharp-clawed wolverine of a frontwoman. Few probably expected such dogmatic dedication – she sang every word like her teenage life depended on it. She was in this rock game for keeps.
And the group paid its dues. They played the Warped Tour, opened for Evanescence, even played with Guns N' Roses on their Chinese Democracy tour. By the release of its sophomore Going to Hell set in 2014, TPR was headlining its own world tours. And Momsen was no longer the wide-eyed naïf. Now she's seen it all, she says, visited all the countries, and gotten a much wider – and wiser – perspective on the world. And she's learned simple techniques for surviving on tour – drink a lot of water and get as much sleep as possible. "So I don't know if I've necessarily learned lessons, but as I've gotten older, everything becomes a little more clearer, you know?" she says. Still, she wasn't prepared for the existential crisis that blindsided her after Hell's extensive – and physically grueling – attendant global juggernaut.
Momsen returned to New York, then her Batcave, totally spent, drained of all creative energy. She reckons this happens to a lot of artists, she says – once you complete a huge project like a world tour cycle, or even finishing an album or any big body of work, you're left with a giant hole in your life. An abyss that often sucks you over its edge and downward, until depression sets in and you begin questioning everything. Her own self-doubt left her with two huge queries – 'Who am I?' she asked herself, over and over again. And, 'What do I do now?' She remembered a quote from a famous musician, possibly Clapton, she thinks. "He said, 'When you're left with that artistic hole, you fill it with drugs and alcohol,'" she relates. "But I try not to do that – I try to fill it with more art, but that's not always easy. So when we got off tour, we were all pretty beat, and kind of at a low point."
But this composer had something to say, and she soon emerged from her slump, reinvigorated. She wanted to track an organic record with her band, sans any gleaming overdubs, a gravelly rock and roll magnum opus that unleashed all of her pent-up lyrical fury. And once she and Phillips sat down to start writing, the songs came quickly. "So it was probably written in six or seven months," she recalls. "And I think the epiphany for me was getting it all out in the songs – I was expressing myself through our music, and when you finish a song – and it's good – it's the most elating feeling on the planet." Finishing Who You Selling For – finally getting every track down perfect in the studio – also raised every band members flagging spirits. Momsen believes that she phrased everything for maximum emotional – and socio-political – effect. Starting with the consumerist-society-addressing title cut itself, her claws are razor-sharp and out for blood. What's going wrong with the world today? She thinks she nailed it.
The number opens with soft percussion brushstrokes, gentle, bluesy guitar chords and Momsen at her most folksy and restrained on reflective words like, "In the middle of a dream on the darkest night/ Woke up in a scream thought I'd lost my sight." The breezy "Bedroom Window" follows, wherein she coldly, clinically stares out her portal and murmur-notes "I see the chaos that's calling me…Is it all real or just fantasy/ I have lost touch with what makes me human…It's all too much for me." The more amped-up anthem "Livin in the Storm" pushes the concept further, with the vocalist growling, "They're killing brains in all of my friends/ When I look inside of 'em there's nothing happening." Like Lady Gaga, Momsen has a gorgeous bluesy-ballad voice, which can accelerate to a high-decibel banshee wail in a heartbeat, as on the punk-propelled "Oh My God," when she explodes with "Wish I was a normal human being…I am a victim of my own self-worth." And she can sing the blues like a retro purist, in down and dirty dirges like "Already Dead" and "Back to the River" (featuring Warren Haynes).
And you can't truly sing the blues unless you've lived them, Momsen understands. Does she deal with extreme self-worth issues? She snorts. "Of course! I am the most insecure person you've ever met in your life. Everything worries me. I'm constantly questioning myself, questioning the world – I question everything on a daily basis. I doubt everything all the time. But I think that's just part of being human," she adds. "I think everyone feels that way at times, if not all the time. And I think it's part of what makes an artist. If you're not questioning yourself and you're just blindly going forward and going, "I'm great,' then you're never going to grow. So you're constantly pushing yourself to be better, and doubting yourself makes you grow as a human, and as an artist. In the band, the amount of times that we tell each other – and ourselves – that we suck is by the minute. Because it pushes you. It pushes you to be better."
Ask Momsen about society's current ills and she'll run down a daunting list, starting with the surprise election of Donald Trump. She fears that women's rights will soon be under attack from his pending cabinet and Supreme Court choice, and she (jokingly?) mentions the possibility of relocating to a more forward-thinking country. She loves London. Paris is always nice, and Canada isn't so bad, despite its frigid winters, she sighs. So we're all 'living in the storm,' as the eerily prescient Mike Judge film Idiocracy comes true, minute by alarming minute. She thinks that South Park also taps into that angst, especially the xenophobic "They took our jobs!" episode and the hilarious "Guitar Hero" send-up, when a dad plays Kansas on a real guitar for his video-game-obsessed kids, who just blankly stare at the device, with no concept of how to make real music.
What will The Pretty Reckless sound like on their next album, after two theoretical years of President Trump? "Oh, God," Momsen shudders, trying not to imagine it. "But we already have a lot of material, so we're trying to do it a little differently this time." That's probably the most important lesson she's learned so far, actually. "Going so long without recording any new music starts to wear on us, so we're going to try and not do it that way this time around. We'll maybe record a little bit, tour a little bit, record a little bit. Instead of that constant brutal tour cycle for two straight years, without creating anything new."
But – as much as this still beau-less lone wolf enjoys being left to her own devices out in New England – she's begun to realize that she does have a new family around her, one that backs her to the hilt and also needs her support. That's right, she laughs, it's her own band, The Pretty Reckless. She always swears she's going to disappear, right after every tour or recording session. "But then two days later, I'm calling our drummer, going, 'Hey, Jamie – you wanna hang out?'," she says. "So it is very lucky and rare to find people that you get on with that well – people who are that musically compatible and personally compatible. We joke that we hate each other. But really, at the end of the day? We'd die for each other."
– Tom Lanham