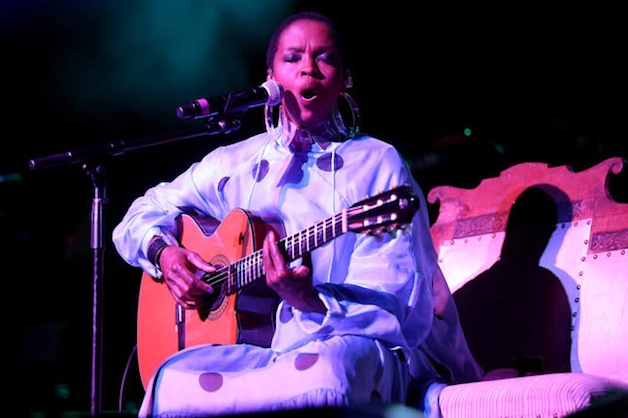 Ravinia, Highland Park, IL
Thursday, September 1, 2016
Falling somewhere in between the reliability and punctuality patterns of Axl Rose, Morrissey and the entire Jackson family, anyone betting on Ms. Lauryn Hill's ability to fully complete her first ever Ravinia appearance before closing time could've possibly made a killing. Though it took three opening acts, a DJ and a dancer to get to the main attraction, the singer/songwriter/rapper/producer/actress did indeed appear as promised with a proper 90-minute set consisting of Fugees songs, her solo breakthrough The Miseducation Of Lauryn Hill, a few wildcards and a vast range of covers.
Granted, it got off to a rocky start as Hill regularly waved her hands in frustration at the sound levels, which were sometimes overpowered by a 10 piece band and three background singers, but once the kinks got ironed out, she more than lived up to her reputation as one of the most innovative and intriguing women to ever blur the lines between R&B, neo soul, hip-hop and reggae. And while she was never totally satisfied with her mix in the monitors, the sold out audience appeared supportive for much of the wild ride split between soulful singing, acoustic guitar playing and frenetic rapping.
After some lesser known selections cranked up the groove, the vibe especially leaped to life come the electro-soul glow of "Ex-Factor" and the rhythmic rumble of "Lost Ones" (accompanied by the animated return of her pre-show dancer). "Fu-Gee-La" dipped back to The Fugees' classic The Score and served up one of the loudest sing-a-longs, rivaled closely by fellow '90s mainstay "Ready Or Not," though either could've dropped on this very show's date and fit in with unflinching musical relevance.
Hill also tried her hand at interpreting many old school influences, from her standard hip-hop reworking of Roberta Flack's "Killing Me Softly" to a double dose of jazzy Sade ("Your Love Is King," "The Sweetest Taboo"), plus a pair Bob Marley & The Wailers' reggae cornerstones ("Jammin'," "Is This Love"). She even channeled Nina Simone on a convincing edition of "Feeling Good," earning equal points as a song stylist as a socially-minded and spiritually-enlightened songwriter.
Yet it was her very own soul swinger "Doo Wop (That Thing)" that truly brought down the house as the aisles filled with dancing fans and Hill left center stage to joyously greet each side. Even her kids came out to join the festivities, and the woman who otherwise spoke very few words seemed genuinely swept up in the moment and appreciative over Ravinia's thunderous reception for an evening that wound up being well worth the wait and the wager.
-Review and Photos by Andy Argyrakis
Category: Stage Buzz