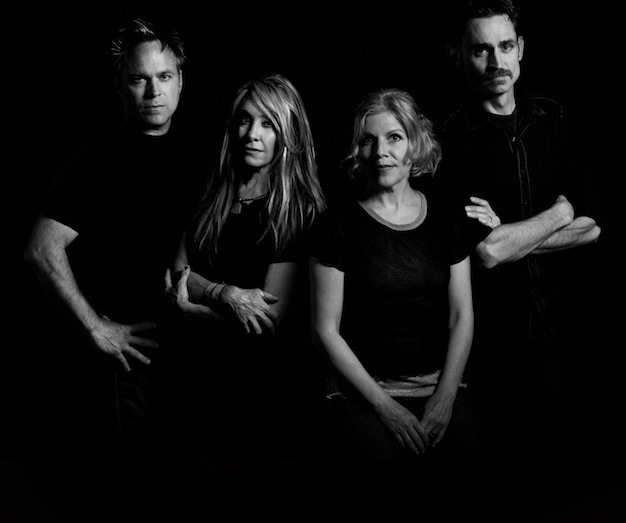 Life never ceases to amaze via the unexpected turns the daily routine can take. For example, say you've been drinking alongside a neighbor at your local happy hour for some years now so that you regularly engage in the fine art of conversation – when seemingly out of nowhere comes the revelation that not only was the friend and neighbor a guitarist in a band that you not only admired, but the band was also admired by millions of others around the world in the Clinton-era. And since he knew that you were a writer for a magazine that once featured his band on its cover, maybe you might be interested to know the band was getting back together for its tour in over two decades?
Therein lies the backstory of a personal friendship with Tom Gorman and a reintroduction to Belly – the band. Tom's guitar helped stratospherically push to the top of the indie rock heap over a three-year run in the mid-'90s. For this happy hour we've replace our bar stools, with a kitchen table, waiting for Belly founder, front person and chief songwriter Tanya Donelly to join us via phone.
One can't understate just how quickly and how great of an impact Belly immediately made on the music scene of the time: within a year, its 1993 debut recording Star was certified U.S. gold (and selling millions worldwide) and its ubiquitous single "Feed the Tree" was a staple on MTV and modern rock radio; the band itself was nominated for two Grammys, its photos gracing international media coverage and both headlining and touring the world with such highly regarded bands like Radiohead and REM, among others. Then almost as quickly, less than a year after its 1995 follow-up release King, Tanya decided Belly would be no more.
In various ways King is a much stronger, harder, more durable recording, albeit with less of its predecessor's much more easily digestible and immediate pop charm. So, with introductions made and Tanya joining Tom and me on speaker, I ask her if King's relative sales decline is what led her to disband the group after such a short run? Her response is somewhat surprising. "It actually did really well. It just didn't in the context coming right after Star." Now? I would be psyched if anything I ever did again did as well as King did. Because King actually did well. King sold well [but] just not relative to Star, you know? There were plenty of alternative bands at the time that would have loved, to use an industry term, to have 'performed' as well as King did.
"I know Tom has his own perspective on this – but it never really diminished my love of that album. And it didn't really feel like it bombed, do you know what I mean? People were still excited about it. The singles still got played on the radio. Our shows sold really well. I think in some ways King really solidified the cult following that we now apparently seem to have – unknowingly. There's great love for it and that's kind of more important to me." Tom jumps in, "Yeah it was sort of the sense of King being some sort of failure, I think, was entirely from the side of industry."
So, did it just kind of not become fun anymore? So you said just bag it? "Yeah" Tom says slowly. Tanya immediately concurs, "I think so. And also I don't think any of us were aware of how exhausted we were, at the time, too. I mean, I've worked hard, all the time. [But] I've never worked that hard. And hard is something we're not afraid of. What's that expression? 'Never dip into your essence. Only into your excess.' And we dipped really deep into our essence," she laughs, "and sort of became depleted." "Yeah," adds Tom, "And we didn't have the where-with-all to say 'No.' "We did not! We definitely did not know you were allowed to say 'No!'" Tanya concurs.
While the four members went their separate ways following Belly's break-up. Tanya would continue with an active solo career. Bassist Gail Greenwood continued playing music while also developing a graphic design business. While Tom and brother/drummer Chris both relocated to New York and focused primarily on photography with an occasional musical foray. One could sense that even though it took some 20-plus years, a musical reunion of some form was inevitable.
"Gail and I did some songs for Tanya's Swan Song collaboration series. That was kind of the thing that made the first step," says Tom, referring to the series of EPs Tanya began releasing in 2013. "And then there was our collaboration by sending files back and forth. But it was just like 'This is actually really easy.' And it turns out really good, you know?" he ends with another laugh.
With the decision made, it was sort of "back to the future" for the band as they once again met to rehearse in bassist Gail Greenwood's basement, where Tanya first auditioned for the band and rehearsed. While the band was rusty, "The vibe came together like that, "says Tom with a snap of us fingers. "And then we laughed so much that our jaws hurt." As if on cue, the two again break into laughter together.
At the time of our conversation, the band had just completed a weekend of unannounced "warm-up" shows at a small Rhode Island club owned by a friend. Knowing that Tanya's been playing in front of audiences fairly regularly over the years, while Tom hasn't, what was it like for him to walk onstage again? "The first night was kind of a little stressful and nervous just because you just got to take that first step," Tom admits. "And, yeah, I had played briefly with Buffalo Tom right after Belly." "And Throwing Muses, didn't you do them?" Tanya reminds him. "Oh yeah, I played bass with Kristen Hersh on a little tour. But that was pretty close to when Belly ended."
"There's also just one happy product of age – everything is in a little more healthy perspective," observes Tanya. "The first night, we had fun and it was really good. But I was sort of like, 'Oh I made so many mistakes. And in the past that would have tormented me and kept me up all night. But I was like, 'Let's just all go out for dinner," she laughs again, concluding, "I just have a different, sort of, you know, healthier approach, which makes things much more fun."
Did performing these first shows in front of a (presumably) friendly hometown crowd make it more fun and easier or, in fact, harder and scarier? "In some ways it was [scarier]. I think we had this 'Yeah they're going to be like practice shows.' And then I had this little moment before we went on when I was just internally thinking," Tanya shifts to a stern voice, "There's no such thing as a practice show!"
A few days after we spoke the band set out on a sold-out U.K tour which, like the U.S. leg to follow, is entirely supported DIY by the band. Or, as Tom put it "all on Tanya's shoulders. There aren't handlers who'll hand us a packet and say 'Here you go.' We have to make sure we've got it all straightened out ourselves.' Which prompts Tanya to respond, "And I'm a mess; my living room is a pile of clothes and luggage and equipment!"
Any thoughts on their impending Chicago gig at the Vic theatre? Tanya jumped right in. "Chicago. And I'm not just saying this lightly, but Chicago has always been one of our very strongest and most fun cities, you know? I love the clubs there. The people are very responsive, the shows were always really exciting and fun. And I love the Vic, yeah!"
-David C. Eldredge
Appearing: 9/17 at The Vic Theater, Chicago.