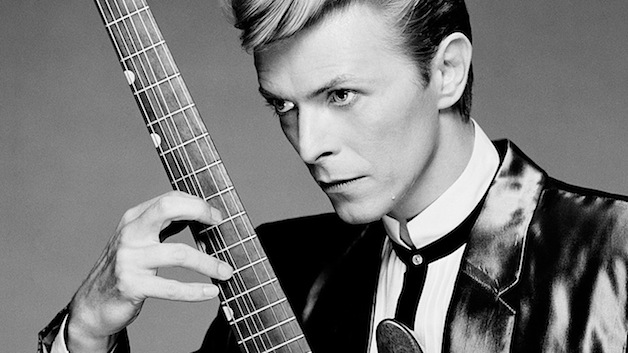 I half-remember a Keith Richards interview with the Rolling Stones guitarist telling some young journalist, somewhat condescendingly, "My boy, for you, there have always been the moon, the stars and the Stones."
David Bowie was like that for me. I became acutely aware of pop music in 1978. By then, Bowie was already a major figure and had released Heroes, his twelfth album. I was fascinated by his radio singles, and still age gloriously backward when my cover band rips into "The Jean Genie." Eventually, I indulged and adored his deeper cuts and experimental fare.
Bowie's musical scope was so broad, from very British pop to glam to mainstream rock to cutting edge sounds. He surfed new fascinations as they were vital, rather than reacting to them well afterward. Low is an obvious example, but Earthling accomplished that, too.
Even Bowie's so-called desert period was loaded with gems. Are Tonight and Never Let Me Down justifiably maligned? Not here. "Loving the Alien" and "Neighborhood Threat" are perpetual, personal favorites alongside "Watch that Man" and "Life on Mars?" Some moods demand "Time Will Crawl" and "Bang Bang" in rotation with "Rebel Rebel," "Suffragette City" and "Space Oddity."
Those Tin Machine albums? Love 'em. Reeves Gabrels' acrobatic, mangled guitar sonics were counterpoint to Bowie'sassured croon and his bluesiest shouting on "Heaven's in Here" and the abrasive but invigorating stadium rock of "Under the God."
My first time seeing Bowie perform wasn't until 1995's Outside, so I was a latecomer again.
My favorite concert moment was on 2003's Reality tour at the Shrine Auditorium in Los Angeles, watching from a rafter seat. Bowie emerged for an encore of "Bring Me the Disco King," essentially a duet between his tremulous baritone and the elegant, assured piano of Mike Garson, underscored by a skittering loop of tango drums. Bowie prowled a catwalk behind and beside the stage, singing in a theatrically embattled voice about the past, aging, death and the relevance of a single life. It was incongruously electrifying, and spooky-scary as hell. It gave me the shivers and stood my hair on end. I get an echo of that feeling, just thinking about it now. Bowie breathed a knowing resignation and mortality into the lyrics, like a heartsick torch singer in a long-ago nightclub. "You promised me the ending would be clear. You'd let me know when the time was now. Don't let me know when you're opening the door. Stab me in the dark, let me disappear."
One hates to think that Bowie, like so many of our loved ones, lived that experience more closely than he deserved while secretly battling cancer. On Friday, January 8, I considered Blackstar to be the incremental work of a great, rejuvenated artist. It was fascinating and creepy and wonderful on its own merits, but now it assumes added significance as Bowie's parting statement.
On January 10, we learned that Bowie's private struggle fueled an urgency to produce one more excellent album as that terrible clock was ticking. It was an opportunity to bravely take a terrifying, final ordeal and wrestle beauty out of its bony grasp. What an astonishing thing, to have the final word. Who gets to do that?
David Bowie did.
It was a rare feat, crowning nearly five decades of surprises and thrills. And now what? I anticipated more to come from a constant, lifelong hero, now gone to join the stars that look very different today. Sail on, Sailor.
– Jeff Elbel
The passing of David Bowie is one of the great losses in modern music along with the deaths of Sinatra, Presley, Lennon, Strummer, and Cobain. The Bowie weapon was his chameleon-like ability to musically change from the groundbreaking glam rock of "Ziggy Stardust" to the Thin White Duke of funk ("Fame") and full-on pop idol ("Let's Dance") and everything in between (any hard rocking die-hard Tin Machine fans out there?).
His connection to Chicago was fleeting (he took residence here performing in The Elephant Man in August, 1980). Retired from touring by 2005, the only real live taste of Bowie Chicago experienced in the last decade was his 2014 MCA exhibit David Bowie Is, which was thankfully more than a Bowie greatest hits exhibit. DBI immersed Bowie's fandom in the painstaking process of creating a 30+ year visual experience (Sound + Vision!) to go along with his legendary musical soundtrack.
Bowie's swan-song 25th album, Blackstar came out last Friday (1/9/16). Like only Bowie could, it pushed boundaries with spare and dissonant electro-jazz that is as lyrically thick and layered as anything Bowie had ever released.
RIP David Bowie.
– IE Staff
Our friends from The Best Radio You Have Never Heard Podcast have assembled a tremendous tribute to Bowie, that IE readers can hear it HERE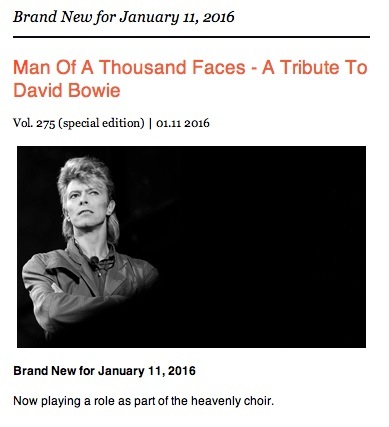 Category: Featured, Stage Buzz, Weekly