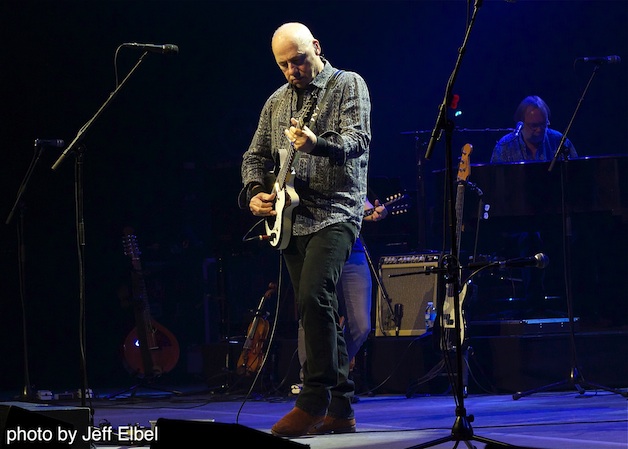 Chicago Theatre, Chicago
Friday, October 2, 2015
To the cavalier onlooker, Mark Knopfler is forever linked to his time leading Dire Straits, but those willing to scratch beyond the surface will quickly discover a prolific solo career, alongside additional album collaborations with Chet Atkins and Emmylou Harris. Add his production work for Bob Dylan, Tina Turner and Randy Newman, plus a slew of soundtracks from Local Hero to The Princess Bride, and the singer/songwriter/guitarist is unquestionably gifted beyond words, if not a bit underrated.
Granted, those in the know have stuck right by the 66-year-old through this year's Tracker album and tour, as evidenced by yet another Chicago Theatre sell out, but after witnessing two hours of feverish fret work, it's safe to suggest Knopfler's been sold short of his bonafide guitar god status. Though he and a seven piece band came out swinging with the steamrolling "Broken Bones" and the Celtic meets southern stomper "Corned Beef City," the veteran was relatively reserved when it came to showboating and grandstanding, simply offering a sly smile or slight step beside the microphone to riff with a band member.
No, the Knopfler of 2015 isn't quite the same guy who bounced around in 1985's "Walk Of Life" video, but he appeared more self-assured and genuinely satisfied without having to care about commercial performance. In fact, much of what he's dropped in between adapted a more stripped down, roots rock/folk approach, and even if recent offerings like "Privateering," "Skydiver" and "Haul Away" were slower, more methodical and less magnetic on stage than say the standing ovation-earning Straits standard "Sultans Of Swing," no one can fault the troubadour for following his more mature muse.
Perhaps that's why individual material exponentially outweighed past band crests, although Knopfler did oblige with the distant past on a few occasions, taking an older, wiser and more cautious approach to love on "Romeo And Juliet" (with just three supporting players) and dusting off the sax gem "On Every Street" (for only the second time in 23 years). The decision to dig deep also meant no time for "Money For Nothing" (sure to have stuck out as sorely as the catchphrase 'I Want My MTV' would in today's internet age), though at least "So Far Away" was offered as a more musically appropriate bridge between both eras.
Other back-half highlights included "Marbletown," which found Knoplfer and the entire band gradually building towards a good old fashioned hootenanny, while "Going Home" closed out the night with so much cinematic grandeur fans refused to leave. In fact, cheers for a second encore were ample enough for the lights to stay dimmed as the headliner probably considered it, and in spite of no return, chances are faithful left with an even more esteemed opinion of this somewhat under the radar solo secret they proudly knew all along.
-Review and marquee photo by Andy Argyrakis (additional photos by Jeff Elbel)
Category: Featured, IE Photo Gallery, Live Reviews, Stage Buzz