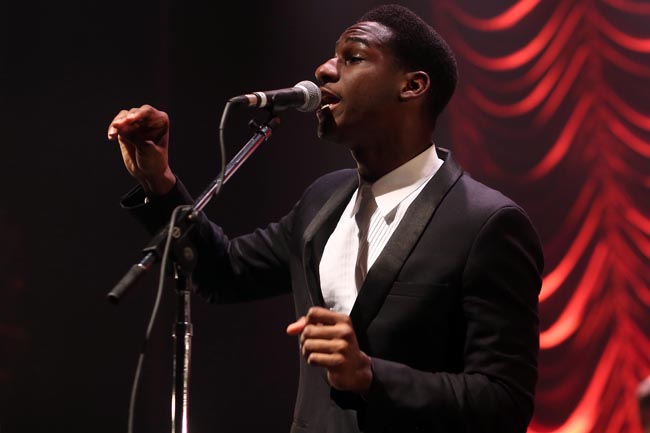 Leon Bridges
Vic Theatre, Chicago
Tuesday, October 27, 2015
In an era where buzz often times trumps history, Leon Bridges jumped to the front of the line late last year when his revivalist brand of good old fashioned R&B, straight up soul and tinges of gospel hit the airwaves and internet. Uncannily evoking the ghost of Sam Cooke, coupled with hints of Otis Redding, Marvin Gaye, Raphael Saadiq and perhaps a smidge of Sam Smith (as far as current cats go), his appearance at jazz mecca The Green Mill sold out instantly in April, prompting a just as quick Vic Theatre max out, followed by the announcement of a third round in less than a year (slated for Friday, March 11, 2016 at the Chicago Theatre).
At the still intimate but larger Vic (at least compared to Al Capone's old hangout), Bridges didn't even try to live up to the present day hype, but rather, sought to transport an audience barely old enough to remember the '80s and '90s back to the '60s. And what an education it was, making sure millennials went home with a greater understanding of the sounds from Stax, Motown and beyond, regularly blurring the lines between the sacred and secular, plus geography as widespread as the Lone Star State, the Delta, the Crescent City, Muscle Shoals, and at least on this night, the Windy City.
If it all seems unfathomable a 26-year-old from Texas would come up with such a concoction on his 2015 album Coming Home (Columbia) and continuously expanding tour (that also unveiled several unreleased tunes), he proved pretty convincing on the swinging "Brown Skin Girl" and the New Orleans-themed "Twistin' & Groovin'," ably assisted by a five piece band and background singer. Granted, Bridges stayed pretty close to the radius of his microphone stand and appeared slightly shy, but the purity of his pipes more than spoke for themselves, especially on the pleading "Better Man" and the charming "Coming Home."
The relative newcomer also demonstrated a wisdom beyond his years in the songwriting department on multiple occasions, most notably, the heartfelt homage to his mother "Lisa Sawyer," the straight outta church "Shine" and its equally redemptive successor "River." Connect all the dots, and Bridges is probably capable of going the distance like many of the greats he attempts to emulate, while the fact he's come this far in an era of timeliness over timelessness suggests his cross-cultural sway is also right on the heels of his heroes.
Leon Bridges also appears at the Chicago Theatre on Friday, March 11, 2016. For more information, visit www.jamusa.com and www.thechicagotheatre.com.
-Review and photos by Andy Argyrakis
Category: Featured, Live Reviews, Stage Buzz, Weekly