by Jaime Black and Kate Zosky
Now in its second year, the Alternative Press Music Awards returned to Cleveland in July for another day of red carpet interviews, surprise collaborative performances, and music industry awards, for the pop punk and modern rock artists and industries. IE 's Jaime Black and and Dynasty Podcasts' Kate Zosky were onsite at the event, as well as at the Never Give Up: Alternative Press At 30 exhibit at the The Rock and Roll Hall of Fame and Museum the day prior, to cover the entire occasion.
The Rock Hall exhibit featured memorabilia and behind the scenes items from Alternative Press' 30 year history. Among them were the desk where AP CEO and founder Mike Shea first made the earliest issues of the magazine. (For more from Shea, check out his recent Dynasty Podasts interview for IE .)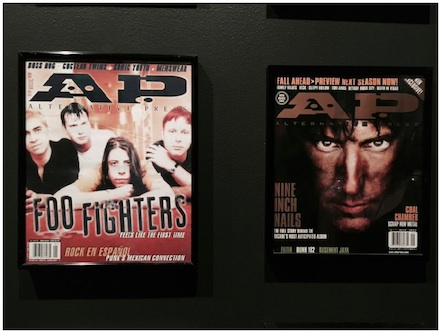 The following day, on July 22nd at the Quicken Loans Arena, also in Cleveland, the second annual Alternative Press Music Awards took place. As with last year , local and national artists and industry walked the red carpet, including AP editor Mike Shea.
Mike Shea
Also in attendance was Todd Mesek, Vice President of Marketing and Communications at the Rock and Roll Hall of Fame, who spoke warmly about the AP At 30 exhibit. "You can imagine with Alternative Press being here in (Cleveland), we've always had a really good relationship with them," Mesek told IE from the red carpet. "And, really, what you see is that, so many people recognized the acts, and the stories, and the kind of the work that AP has done over the years, in the industry.
But the story of the magazine itself doesn't get told. And as they celebrate 30 years, it's the second time they've had the (APMA's). On the occasion of their 30th, we thought, 'Let's elevate this a little bit. Let's do a package of things in Cleveland that really give people from out of town a full experience.' But most important is to make sure that their story is told. Because, Mike (Shea) is that's an effort of passion, of love, of dedication.
And he didn't do it because he wanted to make money, or he wanted to get famous. He did it because that story needed to be told. And he sacrificed a lot, and that's really emblematic of the spirit of rock and roll. So, it's really important that that story be told. That we recognize him in the museum. That's part of the rock and roll story. You look at what he's done for bands like Guns N' Roses, or Fall Out Boy, or the awards show itself. Or all the ways that that magazine has given a voice to bands, and given an access point for fans. (It's a) really, really important force. An alternative force, and it needs to be recognized."
Also holding court on the carpet was Kent Smith, State Rep for the 8th Ohio House District, who shared his thoughts on Cleveland as a music city. "When I'm down in the state capitol, in Columbus, oftentimes, some of the conversation is that, we think that, there's 49 other states that are jealous that we have the Rock and Roll Hall of Fame," Smith mused. "Well frankly, I think there's 49 other states that are jealous that we have Alternative Press."
The politician also shared his Chicago ties, as he also spends time here as the announcer for the Chicago Outfit roller derby league. Speaking about Modern Baseball 's video for "Your Graduation" nominated for Best Music Video director Kyle Thrash explained the clip's concept to IE . "Well, Brendan (Lukens), the lead singer and I, basically talked a lot about being lonely, and getting broken up by girls, and he's a really fun guy to work with, so we just wanted to do a bunch of portraits of him getting broken up by a bunch girls. And then, have fun at FDR Skatepark in Philly."
Emotionally charged Tinley Park outfit Real Friends, meanwhile, took time for a quick podcast interview on the red carpet. The group Kyle Fasel, Brian Blake, Dave Knox, Dan Lambton, and Eric Haines shared their excitement for being nominated for three awards, including Best Bassist (Fasel), Album Of The Year (Maybe This Place Is The Same and We're Just Changing), and Song Of The Year ("I Don't Love You Anymore," off Changing ). The group also weighed in with their take on exactly why Chicago produces so many sensitive and sorrowful artists.
Finally, it was time for the actual awards show . Featuring a combination of performances, award presentations and speeches, and surprise collaborations, the event was an impressive tribute to the stars of the alternative genre, past and presents. Highlights included: Rob Zombie joining fellow hard rockers Motionless In White onstage for a performance of White Zombie 's early '90s hit, "Thunder Kiss '65."
Zombie was also the winner of the evening's Vanguard Award, akin to a lifetime achievement award. The recognition prompted Zombie to recall early press from AP upon receiving the award. "As I hold this award in my hands, I can't help but think back to the first time I read something about myself in Alternative Press . It was right when the first White Zombie record came out on Geffen Records. We were all excited. It was the first big review. 'Oh my god, what does Alternative Press have to say?' We opened it up, and I'm not making this up it literally said, 'This is the worst band ever.' And then it said, 'Ignore this band. Whatever you do, ignore this band.'"
Elsewhere in the show, early 2000s pop-punkers Sum 41 took to the stage to perform a medley of hits like "Still Waiting," "In Too Deep," and "Fat Lip." The set came as a comeback of sorts for the group, following frontman Deryck Whibley 's brush with death last year due to alcohol related maladies. Though the group were never critical darlings, the band's familiar radio staples were a surprising highlight of the night, even featuring an out of nowhere collaboration with DMC of none other than Run DMC.
Another one of the evening's strongest performances came from Massachusetts rockers PVRIS , who, along with Tyler Carter of Issues , performed their song "My House," off the group's 2014 effort White Noise . Among a stacked lineup of talent, 21 year old frontwoman Lyndsey Gunnulfsen stood out as one of the brightest new talents of the event.
It wasn't just performances that held up the evening, however. Hosts Alex Gaskarth and Jack Barakat of All Time Low took over hosting duties for this year's event, following Blink 182's Mark Hoppus doing the same last year. Hoppus even contributed again this year via a few amusing video shorts, which found the Blink frontman acting out scenarios with the evening's talent through stuffed animals in a young girl's room. Gaskarth and Barakat, meanwhile, riffed on anyone and everyone in attendance and in the greater AP scene, from Corey Taylor to the KONY 2012 campaign. The duo even managed to offend the humorless and overly-sensitive Trace Cyrus from Metro Station .
As a sequel to last year's inaugural event, the second annual Alternative Press Music Awards was bigger and a bit more polished: moving from the outdoor area of the Rock and Roll Hall of Fame to the indoor shelter of the Quicken Loans Arena. And while last year's show was undoubtedly a bit of a DIY experiment, this year's follow up found the production more assured and official, while still leaving room for the playful pop punk spirit embodied by AP and so many of the acts present at the show. For anyone looking to get closer to their Warped Tour heroes and see them in a different light than on their touring productions, the APMA's is the next best thing to being on the tour bus.
Category: Live Reviews, Monthly, Stage Buzz, Weekly