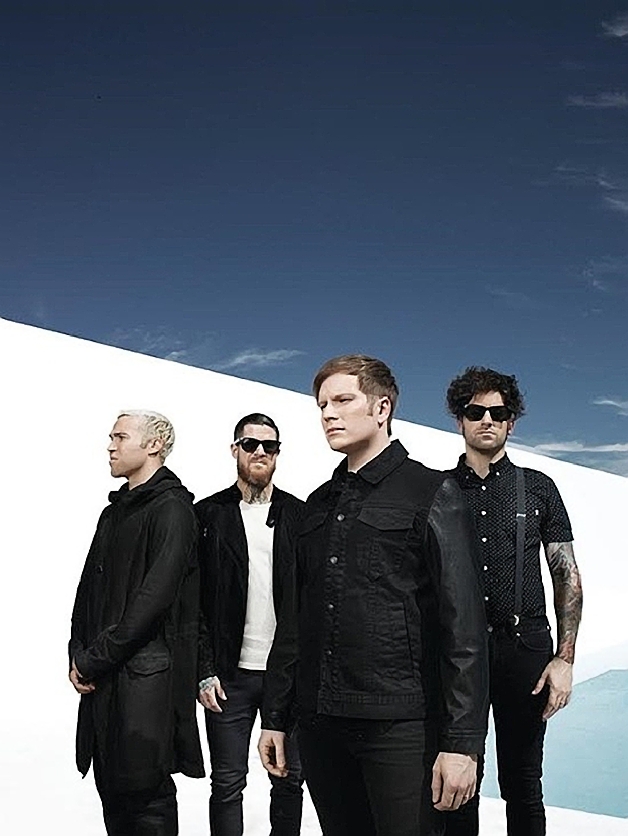 It might seem like hyperbole to say that Fall Out Boy bassist Pete Wentz is currently juggling so many diverse projects that he's probably conceiving new ones in his sleep. But that's not too far from the truth, chortles the affable musician, who is prone to punctuating discussions of his creative outlets with a drawn-out, unabashedly-excited "Yeeee-AAAAAYyuhhh!" "I had a dream the other night that Obama actually came over to my house, but that did not happen," he says. "And I don't think there's any realistic way to make that happen, so none of these things I dream up turn out very well for me." Then again, his parents do, in fact, know
Obama's veep Joe Biden. "They met while working on his senatorial campaign," he adds, considering his extensive web of connections. But nah, he decides. "I think we're still a couple of steps away from a sleepover!"
Not that the musician would even be around if the Commander in Chief rang his doorbell. Which could one day happen, judging by the velocity at which this 35- year-old has been traveling since 2012, when he re-formed Fall Out Boy after taking a depressurizing three-year hiatus. What activities are occupying his time? He owns two bars, both called Angels and Kings, in New York and his native Chicago. He oversees a film production company dubbed Bartskull, and a clothing line once dubbed Clandestine Industries that he'll soon be re-launching out of Japan. He often accepts TV and film cameos (he's appeared in Californication
and  One Tree Hill, and just taped a punky role in the Nickelodeon network's reworking of the Jack Black movie School of Rock). But wait. There's more.
The Renaissance man anchors Oxygen's reality TV competition Best Ink, for up-and coming tattoo artists. He has his own Saturday morning radio show on Sirius XM, Hits and Misses, and runs his own recording label, DCD2, formerly known as Decaydence. He also has his own signature- model Squier Precision bass, and – with James Montgomery – he just published his first novel, Gray, a semi-autobiographical tale of rock star life. ("I have a whole newfound respect for people who write for a living – I don't think that's a process that I could ever do again," he sighs.) Additionally, his rugged features and ear-to-ear grin wound up becoming tabloid staples, as he was followed by paparazzi everywhere he went with his then-wife Ashlee Simpson (whom he divorced in 2011) and their photogenic young son Bronx Mowgli. With his new galpal Meagan Camper, he had a second son, Saint Laszlo, born last August. Then there's the music side of things, where Wentz, vocalist/guitarist Patrick Stump, guitarist Joe Trohman, and drummer Andy Hurley are firing on all experimental six with American Beauty/American Psycho, the brainy new follow-up to Fall Out Boy's chart-topping 2012 comeback Save Rock and Roll; In a visual nod to The Who, Wentz is draped in a U.S. flag in one of the cover photos, and the disc even boasts a whistle-buttressed march conversely called "The Kids Aren't Alright." ("We always use references to things that we all agree on, or things that we want our fans to check out," Wentz elaborates.)
The album also boasts the spy-guitar-booming anthem "Uma Thurman," intended to celebrate the actress's various kick-ass actionflick personas (and given a thumbs-up by Thurman herself before inclusion on the set). Then there's the earworm single "Centuries," which cleverly melds a Suzanne Vega/"Tom's Diner" sample with Stump's hip-hop-serrated verses and Queen-huge chorus. Plus the title track (which name-checks two of the band's favorite movies, and according to Wentz "refers to two sides of one person, because both films are distinctly modern takes onisolated personalities"), and the coliseum huge monster "Immortals," first used in the soundtrack for Disney's animated robot feature, Big Hero 6, which just won an Academy Award. This guy is busy. Add to this the concepts – perhaps dreamed – that never reached fruition, and Wentz's schedule becomes a downright blur.
There was that art gallery he was thinking of starting in New York at one point – it looked good on paper, but it never took flight. And the concert they planned to play in Antarctica – they made it as far as southern Chile, but all flights to the icy land mass were grounded for over a week. And how about a fine bottle of Fall Out Boy zinfandel? It nearly happened, Wentz laughs. "There was a time when we actually thought about buying a vineyard, and we were going to start making wine. Again, on paper, it sounded good. But then it was like, What kind of wine would we come up with? We don't know anything about making wine at all! And none of us lived near Napa, so we ended up kicking that idea on down the line."
Some bands have launched personal lines of promotional beer. Which might have worked for Fall Out Boy if not for one minor detail: "I'm just not a big beer drinker," cedes Wentz. "And my rule of thumb has always been, whatever it is, you've got to do things that are authentic to you. The minute you stop doing that –
and you do something just for some quick cash or whatever – I think that's when it starts to smell a little funky. But hey – if you're into hang gliding, or whatever the thing is that you're into, it's not a far reach
for you to get involved in doing it. But if you put yourself out on some strange limb, with something that you're not into, one day you'll have to backtrack and make up some story about why your name is attached. And that, to me, just seems like it would never work out."
Ergo, when Wentz – heavily-tattooed himself – was offered the "Best Ink" hosting gig, he pounced in a heartbeat. And he learned much more than he ever imagined about the intricacies of the art. "More than anything, I was a tattoo connoisseur, but I didn't know anything about shading, gray scale and all these things that I've now learned after being on the show," he admits. He's accumulated designs al over the world, he adds, with his favorite adorning his left arm. "It was done by a Japanese artist, and it's a character – and I don't know his exact name in Japanese – who is hung in boy's rooms in spring to induce bravery. So he's this little red guy on my arm, and he's got these huge eyebrows.
I got it when I had my first kid, to commemorate having a son." Wentz is such a fan of animation that he
named his quartet after Radioactive Man's young sidekick in an ongoing caped-crusader storyline from "The Simpsons." He's even worked on a comic series for the Image imprint, "Fall Out Toy Works." So when he got an unexpected call from Disney Studios, again, he jumped at the opportunity. "And they don't even tell you
what the project is – they said, 'We have this little thing that we want to meet with you guys about'," he says.
"So we went in to meet with them, and when they explained to us the idea of Big Hero 6, the story was something we could really latch onto as a band. Because we're the nerdiest guys, and this was about a nerd made good, so it really made sense for us to do the song. And we went to the premiere, which was cool, because John Lasseter was there, and he gave us all hugs. It was a really big deal for us." Why is this performer so driven? He's not sure, he replies, after thinking about the question for a bit. "Probably my dad, I think," he decides. "My dad's a pretty driven guy, and he was active all the time in the '80s. He was an executive lawyer, and then in the '90s, he worked to abolish the death penalty in Illinois, to get a moratorium on it. So my father did all these different.
– To read the full story go to page 24 in our March 2015 digital edition HERE
– Tom Lanham
Category: Featured