ilentertainer | Aug 06, 2014 | Comments 0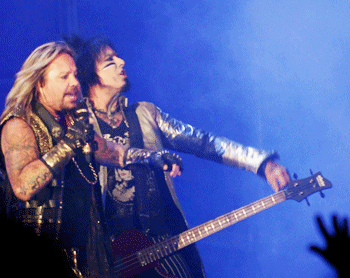 A plethora of pyrotechnics, scantily clad dancing girls, a fire-shooting bass, a roller coaster drum riser and much more is in store on Mötley Crüe's latest tour, All Bad Things Must Come To An End. The show was an exciting thrill ride from start to finish (and Crüe says this is their last tour ever (and they mean it!)) when this scribe caught the band's performance at the Wells Fargo Arena show in Des Moines on July 11.
The Crüe, with special guest Alice Cooper, will be rolling its rock 'n' roll circus into town this Friday August 8 when they invade the First Midwest Bank Amphitheater in Tinley Park.
– Preview by Kelley Simms
– Photos by Dawn Gorelik
Filed Under: Featured • IE Photo Gallery • Stage Buzz
About the Author:
Comments (0)