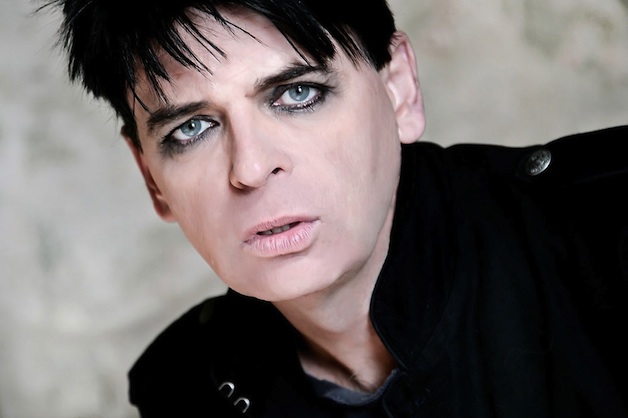 Gary Numan
Sat, March 29th, Metro; Chicago
As a licensed pilot, veteran New Waver Gary Numan used to live to fly, and fly to live. Even though it nearly killed him a few times, like the pitch-black night he was over the Pacific, halfway from San Francisco to Hawaii, when his fuel line froze, sending his stalled WWII-vintage plane hurtling toward the ocean. It thawed just in the nick of time, the engine sputtered back to life, he attained some altitude. And it choked all over again. "It was almost like a film script when it happened the first time," sighs the daredevil, who turns 56 this month. "And it was so dark, you knew the sea was coming. But you couldn't actually see it."
Numan doesn't fly anymore. But almost drowning is not the reason. "A number of things happened, really," explains the singer, who's come out swinging with the dark, Victorian-creepy new comeback Splinter (Songs From a Broken Mind) – he's even dressed like Jack the Ripper on the sepia-toned cover). For instance, he and his wife Gemma began having children – Raven, Persia, and Echo. Tired of their native gray Britain, the family moved to sunny Los Angeles in 2012, where they regularly fraternize with longtime supporter Trent Reznor and his clan. "Within a week of arriving in California, he invited us over to one of his children's birthday parties, and we brought my children and met all of his friends – he's really made the transition much more pleasant than it would have been otherwise," Numan says of his Nine Inch Nails benefactor.
But the man who achieved worldwide success with his quirky 1979 smash "Cars" and its inventive parent album The Pleasure Principle had a more serious motive for climbing out of the cockpit. "More people carried on being killed," he sighs. "I was in a flying group called The Harvard Formation Team with six WWII airplanes, and of those six people that started it, four of them were killed in crashes. I did a two-ship formation aerobatic routine with a teammate that we used to take all over Europe, but he was killed in a crash – not with me, with somebody else. Even the man who taught me my aerobatics was killed in a crash. So flying went from being something very exciting to something really sad. You'd go to an air show every year, and there would be less and less people that you knew."
Once it finally dawned on Numan that his number was bound to come up eventually – and to please his worried missus – he grounded himself. He tried piloting little Cessnas for a bit, then gave that up, too. "When you've been an air display pilot for 15 years, normal flying just seems so tame," he confesses. "Flying was everything to me, it was my entire life. The reason I did music was to pay for my flying. But I love my wife very much, and I didn't want her to be frightened all the time that I might not come back. So I sold the airplane and haven't flown at all now for a couple of years. I think my license has even lapsed!"
Earthbound. It's a good metaphor for Splinter, which the ex-Tubeway Army leader made after confronting some harsh everyday truths about himself and his art. The keyboardist recruited NIN guitarist Robin Finck and producer Ade Fenton, and arrived at an industrial-strength reimaging of his original electronic sound. The album opens with the thunderously clanking processional "I Am Dust," then accelerates into a marching "Here In the Black," with the singer hiss-whispering lyrics like "Here in the black there's a feeling of loss but it's hungry and restless…It's dark and I'm lost, there's a breath in the wind and the breath is malicious." Ominous? Hey – the guy is just getting started. There's further funereal pall shrouding "Lost," "Love Hurt Bleed," "A Shadow Falls on Me," "We're the Unforgiven," and a windswept closing ballad "My Last Day," in which he attempts to prepare the children for his eventual death. It's all firmly rooted in some rather grim, appropriately Gothic reality.
In the '90s, Numan says, he was plagued by debilitating bouts of writer's block. He experimented with soundtrack work, tried unsuccessfully to pen hooky hits ('92's Machine + Soul failure), then threw the rulebook out the window for more dissonant late '90s experiments like Exile. He thought he would whip out a rapid-fire followup to his 2006 effort Jagged. But – even with Reznor inviting him onstage and covering his song "Metal," plus a 30th Anniversary Pleasure Principle tour – Numan was sinking into clinical depression. And he couldn't hop in a plane and fly away from it.
"It wasn't so much writer's block with Splinter – it was more like life itself was getting in the way," Numan recalls. "When I did try to write, it was there, but everything else was wrong. Life itself was wrong. It just wasn't the time to be taking on a big project like an album. From the early '90s on, each album, compared to the one before, has always been much more difficult to make for me. Each album was becoming like a mountain to climb, and I know that there's going to be an emotional rollercoaster that goes with them."
Numan is nothing if not candid. With scientific precision, he sketches a diagram of what he went through. "I was massively depressed, and I was on medication for that," he says, matter-of-factly. "I was having anxiety attacks, and my wife was experiencing post-natal depression, and she was in big trouble. So our marriage went a bit rocky for awhile – we never split up or anything, but it wasn't what it was. And the children were there, too, so I had a fucking midlife crisis right in the middle of it all. It was a horrible time, really. So starting a new album was just the last thing I ever wanted to do."
So Splinter wasn't birthed in pain, exactly: "But I do know where it comes from," Numan elaborates. "Once you're through that dark period and you're happy again, you're able to look back on it and be quite objective and honest about it. We got through all that, we're stronger than ever, and we got used to being a family. So my whole inspiration for the album is drawn from those years, back when things were difficult. And I do think it's a better album for it."
Will this ace ever zoom up into the clouds again? He considers this for a minute. "To be heavily involved in airplanes, you have to be reasonably self-indulgent," he now understands. "So I can't do it now. But maybe in the future. I would love for the children to fly, I'd be really happy if they took it up. But at the moment? Life is so mentally busy, I couldn't do it even if I wanted to!"
-Tom Lanham
Tickets for Gary Numan – Saturday, March 29th at Metro available HERE
Category: Featured, Stage Buzz, Weekly