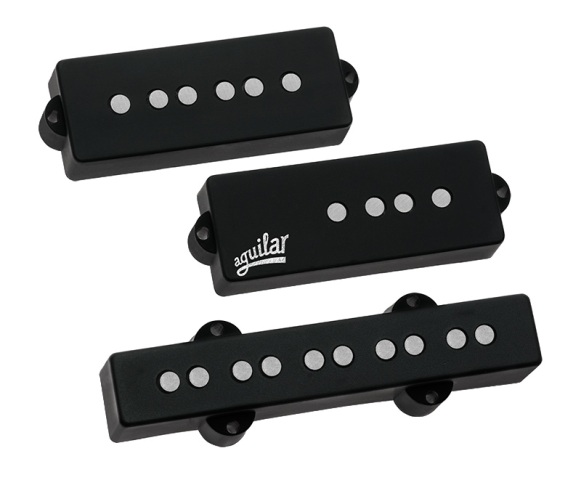 Aguilar AG 5P/J-HC Pickups

New York City-based bass amp and bass electronics boffins Aguilar have had a very good year, and with the release of their new AG 5P-60 five-string P-Bass pickup and AG 5P/J-HC hum-canceling pickup set, they're continuing their roll.
"The AG 5P-60 pickup truly brings the classic sound of the '60s to today's five-string Precision basses," Aguilar president Dave Boonshoft told the press. "The five-string P-Bass has become much more prominent over the last ten years. After the massive success of our four-string AG 4P-60 we knew we had to bring the AG 5P-60 to fruition."
Luke Bryan band bassist James Cook toured this past summer with a 5-string Fender P/J bass looking for new tones. "I was immediately taken aback by how warm, crisp and transparent these pickups are. I finally have all the tonal control I need in one bass because of Aguilar's pickups! I can go from that 'Jamerson sound' to 'Jaco (Pastorious)' with just one turn of a knob!"
The AG 5P/J-HC is a well-balanced set that provides a flexible array of Precision or Jazz Bass bridge pickup tones. Now you can get the thunderous lows of the neck pickup or the midrange cut of the bridge – or both – without the 60 cycle hum!
Like all Aguilar pickups, the AG 5P/J-HC set is wound in Aguilar's NYC factory. The pickups use Alnico V magnets for the big, dynamic tone that Aguilar pickups are known for. Pricing starts at $119. Visit www.aguilaramp.com for more information.
Digitech iStomp Pedal Guitar
Pedal maker DigiTech announced last month that most e-pedals offered through the DigiTech Stomp Shop are available for free download. Featuring a wide array of sonic possibilities, the iStomp connects to a newer generation Apple iPod Touch, iPhone, or iPad enabling musicians to load the effect of their choice into the iStomp.
"When we introduced the iStomp we changed the way guitarists think about how they go about creating their tone. By giving iStomp owners the capability to download any of the e-pedals available we are providing an unbelievable opportunity to immediately access a wide range of effects at no cost whatsoever!" said Scott Klimt, marketing manager, DigiTech.
Digitech's promotion includes all e-pedals, with the exception of the Adrian Belew Impossible Pedal. E-pedals currently available through the Stomp Shop include exclusive pedals from DigiTech, officially licensed pedals from other manufacturers and classic legacy DigiTech and DOD products.
The iStomp pedal connects to an Apple iOS device using the DigiTech Smart Cable that comes with the purchase of an iStomp pedal. The physical version of the iStomp pedal has four knobs to control effects parameters, which change their tone according to which effect is loaded.
We're old school fans of real pedals and effects (especially in a live setting), but we agree that the iStomp makes trying out sounds from DigiTech a good way to audition new tones. Players are then able to tweak their guitar sounds later from a local guitar shop.
With the free tones, guitarists can now download any pedal in the iStomp online store for free for use with their own guitar and amp. The iStomp comes with an iOS authorization cable and power supply. List price for the iStomp is $149.00. Find details at www.digitech.com.
News & Notes
Downers Grove's Tobias Music has added a new clinic and lounge/rehearsal space next to their 5013 Fairview Street retail space. Paul Tobias told IE, "We can probably seat 80 for a live performance. Still have some tweaking to do, but the room sounds awesome." Details and photos can be found at their Facebook page or tobiasmusic.com.
-David Gedge