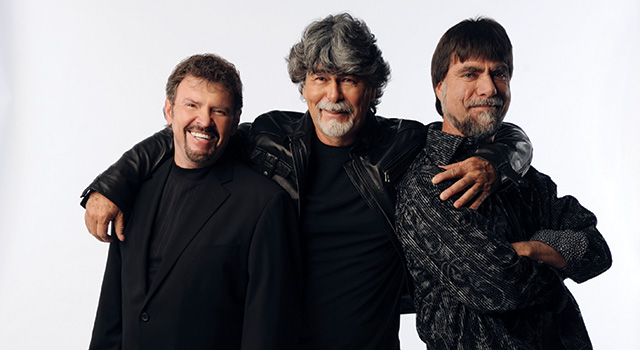 In a country music climate dominated by the young and beautiful, the greats from yesteryear are all but forgotten as far as radio playlists go, but there was a time when Ronald Reagan was POTUS when Alabama was the format's golden group. Statistically speaking, 43 number one singles and over 73 million records sold isn't too shabby, not to mention the fact that the band's widespread appeal rivaled even Dolly Parton, Kenny Rogers and Willie Nelson throughout the 1980s.
When the Garth Brooks era blew through like a cyclone and country music eventually watered itself down to the starlets of the moment, Alabama bid farewell to fans in 2003 and were presumably done with touring. A pair of inspirational albums in the mid-2000s helped stoke the reunion flames, then the fires were further lit when longtime fan Brad Paisley got members together in 2011 for a duet of "Old Alabama." Add in a live performance of that collaboration at the Academy Of Country Music Awards, followed by a 2012 comeback concert at Stagecoach Festival (think country's Coachella) and Alabama was officially back.
Besides being its first full road trip of any kind in a decade, the fittingly titled "Back To The Bowery" Tour also happens to coincide with the act's 40th anniversary and fans came out in droves to actively populate the pavilion and lawn at north suburban Ravinia. Though sounds and styles have changed since then, the group now comprised of front man/guitarist Randy Owen, bassist Teddy Gentry and guitarist Jeff Cook (all dressed down in their backyard basics) didn't bother keying into modern trends, instead diving straight into its blend of classic country, southern rock and bluegrass.
The evening read like a trip down memory lane, addressing the bulk of the band's just released Alabama & Friends album, which finds the fellas earning tributes from the likes of Jason Aldean, Luke Bryan, Rascal Flatts, Toby Keith, Kenny Chesney and Trisha Yearwood (amongst others), along with two brand new tunes they individually tackle. Though none of those famous faces were present to share in the celebration, the trio had no trouble resurrecting the joyous spirit of yesteryear with true to form takes on "If You're Gonna Play In Texas (You Gotta Have A Fiddle In The Band)," "Tennessee River" and a mash-up of "Dixieland Delight" with the old gospel standard "Will the Circle Be Unbroken?"
With just a modest light show to adorn them all, it was clearly a no frills night where the focus was entirely on the music rather than production, but at least Alabama made sure to stock its five piece backing band with plenty of fiery players. "Born Country" served as one of the show's most blustery jams, "Dancin', Shaggin' On The Boulevard" demonstrated a tender yet no less dynamic side, while the classic "Love In The First Degree" overflowed with sweet southern harmonies over earthy instrumentation. Even with all the fame amassed by those very songs, the guys never forgot their roots, as evidenced in fellow home state tributes they're still singing like "High Cotton" and "My Home's In Alabama."
While the 100 minute night certainly gave listeners plenty of reasons to sing-a-long, it wasn't as complete as it could've been. Of course, it would've been impossible to address all 43 chart-toppers (let alone the lesser singles), but "I'm In A Hurry (And Don't Know Why)" and "Lady Down On Love" in particular were conspicuous by their absence. Nonetheless, there was no way the group could've gotten out alive of  Highland Park without "Mountain Music," which even after all these years, continued to converge perfectly at the crossroads of southern rock and bluegrass, while demonstrating why Alabama wasn't just so unique the first round, but still can fill a tremendous void today.
-Andy Argyrakis
Category: Featured, Live Reviews, Weekly