ilentertainer | Jun 10, 2013 | Comments 0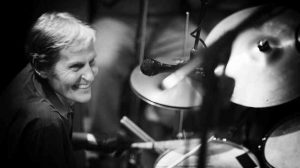 While it's almost an unspoken rule that every available moment of a Chicago summer should be spent frolicking outdoors, the Music Box Theatre's lineup for its third annual Summer Music Film Festival makes a strong case for ditching the shades and risking a vitamin D deficiency. Presented over five days and nights (June 28 to July 2) in conjunction with Greg Kot and Jim DeRogatis' disc dissection, Sound Opinions, the fest opens with an intimate look at the life of The Band's charming drummer, the late Levon Helm.  Ain't In It For My Health: A Film About Levon Helm focuses less on the legendary friction that severed the group and more on Helm's resurgence after cancer. Appointment viewing for anyone who missed out on Helm's star-studded Midnight Ramble sessions in his Woodstock home/studio.
Keanu Reeves' Bill And Ted's Excellent Adventure sidekick Alex Winter brings his Napster documentary, Downloaded, to the fest along with the inaugural installment of the early '90s bodacious buddy franchise. U2's stylistic eye, Anton Corbijn, steps out from behind the camera as the subject of Anton Corbijn Inside Out while two train tours separated by decades (but not ideals) pull into the station with The Grateful Dead, Janis Joplin, and Delaney & Bonnie & Friends (Festival Express) and Edward Sharpe & The Magnetic Zeros and Mumford And Sons (Big Easy Express).
Festival passes are $70 and can be purchased at musicboxtheatre.com/festivals/summer-music-film/
Full schedule below:
Friday, June 28th
4:00pm: A Band Called Death
7:00pm: Opening Night Presentation: Ain't in it for My Health: A Film About Levon Helm
9:00pm: Festival Express
Saturday, June 29
2:00pm: Wild Style
4:00pm: Downtown 81
6:00pm: Ain't in it for My Health: A Film About Levon Helm
8:00pm: A Band Called Death
10:10pm: Big Easy Express
Sunday, June 30
5:00pm: Anton Corbijn Inside Out
7:00pm: Downloaded
9:15pm: Bill and Ted's Excellent Adventure
Monday, July 1
7:15pm: Approximately Nels Cline/In Search of Blind Joe Death
9:15pm: Wild Style
Tuesday, July 2
4:30pm: Ain't in it for My Health: A Film About Levon Helm
6:30pm: Festival Express
8:15pm: Big Easy Express
9:45pm: A Band Called Death
About the Author:
Comments (0)