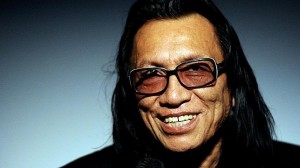 Sixto Rodriguez is a gifted storyteller. The socially-alert folk singer from the '70s broke down some of the mystery surrounding his enigmatic presence for Chicagoans in a personality-driven concert at the Arie Crown Theater on May 17 where he played some of his most beloved songs, cracked jokes in between, and shared small anecdotes throughout.
From the way Rodriguez was portrayed in the 2012 documentary, Searching for Sugar Man, the singer-songwriter isn't jaded about loosing his record deal in the '70s or about not getting much recognition until the late-'90s thanks to large fan bases in South Africa and other overseas markets. In the film he came across as a modest man from Detroit who doesn't care for material possessions and didn't mind doing hard labor all throughout his life – even after being a talented recording artist. Seeing him on the spacious Arie Crown stage in 2013 at 70, Rodriguez appears happy to now be telling his stories of urban strife and everyday life.
Sure he didn't move much around during the show except to confer with his band on a couple occasions, but the feeling behind Rodriguez's voice was heard loud and clear. And it wasn't just experiencing songs like "Climb Up On My Music" being played live; in his own way, Rodriguez genuinely connected with his fans. The singer cuts right to point in telling bar-ready jokes from days past or when responding to a woman in the crowd yelling, "I love you!" by saying, "I know that's the drinks talking, but thank you."
Notably honest and sometimes subsequently hilarious, Rodriguez represents the type of artist that doesn't exist too often today. He calls it like he sees it regardless of whom me might piss off. After performing the inquisitive song "I Wonder," which features lines like "I wonder how many times you've been had / And I wonder, how many plans have gone bad," Rodriguez deadpanned to the crowd, "I wonder, but I really don't want to know." Laughter was heard throughout the theater.
While Rodriguez could easily hold down a stage as a one-man show with personality, his backup band helped deliver a solid set musically with a bassist, second guitarist, and percussionist on board. The calming, meditative "Crucify Your Mind" was given a funk-leaning take that injected new life into the song. Still, the orchestral complexities of Rodriguez's best tracks like "Inner City Blues" were missed. The aforementioned song has so many inviting nuances, including bursts of strings and horns that left audience members around me whistling to make up for the absence. Seeing Rodriguez with a big band would be a sight to see. In the end, one can't complain too much about the four-piece setup Rodriguez brought on this tour. And just seeing the long-absent singer get his chance to play narrative-injected singles like the drug tales of "Sugar Man" was worth the wait.
Opening act Jenny O, a raspy up-and-coming singer-songwriter based in California looks and sounds like she could be transported from Rodriguez's original, early-'70s era. However, being dressed in vintage threads with an endlessly friendly hippy stage presence doesn't equate to a dated sound. Playing songs from her EP *Home and debut album *Automechanic, Jenny and her feel-good blend of folk, rock, and pop laid a strong foundation for this Arie Crown show and created an itch to hear more than this brief opening set.
— Max Herman
Category: Featured, Live Reviews, Weekly