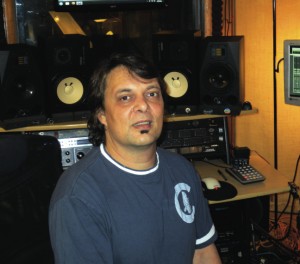 West suburban-based Sonic Palace Recording recently celebrated its 10th anniversary. IE's Scott Assmann recently caught up with founder/owner Matt Mercado.
IE: What's your background in the studio business?
MM: I got bitten by the recording bug when I got my first Tascam Portastudio for Christmas in my teens. I started forming bands and recording the demos that led my band Daisy Chain (Mindbomb) to a major label recording deal with Mercury Records. Later, I co-produced our first record with Max Norman (Megadeth, Ozzy Osbourne).
IE: Why start your own studio?
MM: I started Sonic Palace so everyone who records here can have a comfortable and professional atmosphere at a reasonable price to create great music. After working with several major label producers, I learned how music is made in the big leagues, not just for local demos, and I try to bring that experience to every recording session.
IE: What kind of experience did you have being a start-up?
MM: Starting your own business is a journey. You have to wake up everyday and say to yourself, "What can I do for my studio today?" There were times in the beginning when it was just my dog Coco and myself sitting in the studio waiting for clients to call.
IE: What were a few highs and lows of the past decade?
MM: Highs are hearing the music we produce at Sonic Palace getting a great buzz, either in movies, TV, radio, or the Internet. Everyone involved gets a smile out of that. There aren't too many lows – we're in the music biz after all. A low day in the music biz is a fun day in the real world. If it were a drag, we'd get other jobs!
IE: What is the studio's mission?
MM: We believe we are very creative and try to capture the artists giving their best energy. After that, we can polish, manipulate, and have fun with it. Beginning this year, I've decided to make artist promotions a major goal of Sonic Palace. It's not just enough to have a solid recording, we are also helping artists promote their music as well.
IE: What makes a project successful?
MM: The music business has two entities, "music' and "business," and both have to be equal partners in order to be successful. It starts with a good song properly recorded, then a better promotion plan. You can have the best recording in the world, but without the "business" side being fed it's not going far. After the recording you'd better be prepared to hit the stage in any genre. People (and the music industry) want to see the artist they've been listing to on their iPods live-in-the-flesh. Make sure you're an important part of your scene, don't just be a taker. Support artists and fans in your clique and hopefully they will support you.
IE: As a producer and engineer, what do you bring to the table in a session?
MM: I've been making music all my life and have had major label, indie label, and DIY releases, so there's a lot about the biz I've picked up over the years. As a producer, I understand the artist is going to be the one promoting the song, so I always try to make the artist shine and give them a product they are proud to promote. With the addition of engineer Kyle Reese [going on his 5th year at Sonic Palace], we have a team eager to make some great music.
IE: Where do you see the recording studio industry today and where is it going?
MM: Personally, I believe studios are going to have to offer more assistance in artist promotions. It's not just enough to have a nice shiny recording, you have to have a game plan to brand the artist and make profits out of all the hard work involved. Recently a local rapper Brian [aka CEO] asked for some advice on promotions. He showed me his ReverbNation page. His page had only a few hits and his chart position was 3,483 for unsigned Chicago rappers. I gave him some promo tips and with his hard work he recently got to the top 10. I thought to myself, "Whoa, I guess I do have some good advice."
Hey Studiophiler: To get your studio or band listed in "Studiophile," just e-mail info on who you're recording or who's recording you to ed@illinoisentertainer.com, subject Studiophile, or fax (773) 751-5051. We reserve the right to edit submissions for space. Deadline for submissions is the 15th of the month (March 15th for April issue of IE).
Category: Columns, Monthly, Studiophile