ilentertainer | Feb 06, 2013 | Comments 0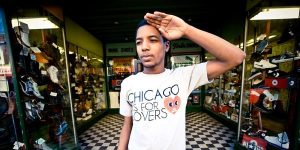 Vibe was king at Saturday night's Rockie Fresh show at Bottom Lounge. The young MC celebrated the release of his new and critically acclaimed Electric Highway mixtape with a relatively mellow approach. Live cuts like the downtempo "Thick Bitch (Hit My Jack)" and the introspective "Hold Me Down" maintained a low-key tempo throughout the set. The minimalistic production of many of the songs held the tone, but Fresh's more subdued flow had a chilling effect. As a performer, the recent Maybach Music Group signee understands subtly and keeps the frenzy at bay, with his material matching his more mature approach. This dynamic was evident in the intimate and introspective "The Lights," which was marked by fog onstage and capped by a melancholy piano lick.
There were exceptions in the evening, namely in the dark and ominous Highway opener "The Future," which stood as one of the set's more spirited performances. Assertive and edgy, the song reflected Fresh's rising star status as he expands his reach and presence beyond Chicago and into the national scene. Whether he follows suit with more a more aggressive approach in the future remains to be seen. But Fresh seems determined to demonstrate that a lot can be said without saying it loudly.
— Jaime de'Medici
Filed Under: Featured • Live Reviews • Weekly
About the Author:
Comments (0)