ilentertainer | Feb 07, 2013 | Comments 0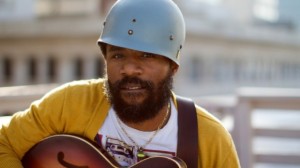 On "Love Is More Than A Wedding Day," Cody Chesnutt tries to instill in all those blushing beauties with overflowing Pinterest boards and visions of church bells in their eyes that the ability to flaunt a hand weighed down by a few sparkly carats while silently mouthing, "He went to Jared" does not a successful lifelong partnership make. This lesson in commitment might seem disingenuous coming from the man who cemented his legacy with the more-cushion-for-the-pushin' groove of "The Seed." However, a decade after a reboot of the adulterous anthem by The Roots generated high praise for the Atlanta native's 36-song lo-fi debut, The Headphone Masterpiece, Chesnutt's keeping his demons at bay on the redemptive Landing On A Hundred (Vibration Vineyard/One Little Indian).
Chesnutt spent the intervening years out of the spotlight patching up his marriage and playing Mr. Mom before heading into the same Memphis studio where Al Green laid down "Let's Stay Together" (essentially salvaging thousands of future relationships) with a soul-stoked doozy of a backing crew to reinvent the blaxsploitation film score ("That's Still Mama"), tap into Dr. John's voodoo gumbo ("Under The Spell Of The Handout"), and deliver a cautionary tale wrapped in an organ-grinding fever dream ("Don't Follow Me"). The aforementioned "Wedding Day" flits like an Ashford & Simpson classic while "What Kind Of Cool (Will We Think Of Next)" showcases Chesnutt's debt to Stevie Wonder.
Bike messenger chic (appropriate toy soldier headgear included) coupled with the self discipline to keep from wielding the mic stand like a baton make Chesnutt an anomaly in a neo soul landscape characterized by pastiche. The 44-year-old leaves the showmanship to his buttery moan. (Friday@Martyrs'.)
— Janine Schaults
Filed Under: Featured • Stage Buzz • Weekly
About the Author:
Comments (0)