ilentertainer | Feb 19, 2013 | Comments 0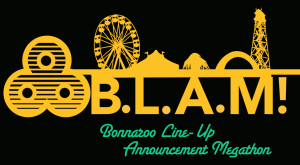 Bonnaroo always seems to trump Lollapalooza in the lineup department, but caravanning down to Manchester, Tennessee means sleeping in a tent or under the stars or anywhere that doesn't include room service. Sure, part of Bonnarroo's allure is stumbling back to tent city just as the sun peaks out from over the horizon after one of the festival's legendary, all-nighter jam sessions (2013 boasts a doozy: Jim James with John Oates of Hall & Oates and Zigaboo Modeliste of the Meters and the Preservation Hall Jazz Band), but there's something to be said for rinsing off your muddy feet in a decked-out bathroom at the end of a long, sun-parched day and climbing into your own bed.
Until the Lollapalooza lineup is officially announced (don't believe the rumors), we'll peruse sleeping bags online and wistfully daydream about making the trip. Paul McCartney, Glen Hansard, The xx, Tom Petty, and Wilco are playing after all.
The full list of artists follows. Bonnaroo takes place between June 13 to 16. (Click on the highlighted names to see when you can see the performers in Chicago in the coming months.)
PAUL McCARTNEY  •MUMFORD & SONS  •TOM PETTY & THE HEARTBREAKERS  •BJÖRK •WILCO •PRETTY LIGHTS  •R. KELLY •WU-TANG CLAN  •DANIEL TOSH  •THE NATIONAL •THE LUMINEERS  •DAVID BYRNE & ST. VINCENT  •PASSION PIT •THE XX  •KENDRICK LAMAR  •GRIZZLY BEAR  •ANIMAL COLLECTIVE •OF MONSTERS AND MEN •SOUL SUPERJAM FT. JIM JAMES WITH JOHN OATES, ZIGABOO MODELISTE, AND PRESERVATION HALL JAZZ BAND! •ED HELMS' BLUEGRASS SITUATION SUPERJAM WITH SPECIAL GUESTS  •NAS  •ZZ TOP •BEACH HOUSE  •MACKLEMORE & RYAN LEWIS  •CAT POWER •EDWARD SHARPE AND THE MAGNETIC ZEROES  •A$AP ROCKY  •JIM JAMES •"WEIRD AL" YANKOVIC  •TAME IMPALA •BOYS NOIZE  •GLEN HANSARD •GOV'T MULE  •THE GASLIGHT ANTHEM •PORTUGAL. THE MAN  •WOLFGANG GARTNER  •BILLY IDOL •SAM BUSH & DEL MCCOURY  •DWIGHT YOAKAM  •FOALS •PORTER ROBINSON •LOCAL NATIVES •MATT & KIM  •DIRTY PROJECTORS  •TROMBONE SHORTY •JOHN MCLAUGHLIN AND THE 4TH DIMENSION  •NOAM PIKELNY & FRIENDS AMADOU & MARIAM  •ALT-J  •FATHER JOHN MISTY  •BARONESS  •THE TALLEST MAN ON EARTH  •WALK THE MOON  •PRESERVATION HALL JAZZ BAND A-TRAK  •EARL SWEATSHIRT  •THE VACCINES  •PAPER DIAMOND  •HOLY GHOST! •DIVINE FITS  •MIKE BIRBIGLIA  •PURITY RING •SWANS  •FRANK TURNER  •BIG K.R.I.T. ALLEN STONE  •CULTS  •LEE FIELDS & THE EXPRESSIONS •FATOUMATA DIAWARA •TWO GALLANTS  •THE SHEEPDOGS  •FOUR TET  •CALEXICO •JAPANDROIDS •DEATH GRIPS  •CONSPIRATOR  •WILD NOTHING  •ARAABMUZIK  •JOHN FULLBRIGHT *DJANGO DJANGO •HAIM  •KILLER MIKE  •ARIEL PINK'S HAUNTED GRAFFITI ACTION BRONSON  •CLOCKWORK  •TWENTY | ONE | PILOTS  •REPTAR  •DIIV •MILO GREENE  •LORD HURON  •FUTUREBIRDS  •JASON ISBELL & THE 400 UNIT CHARLI XCX  •JEFF THE BROTHERHOOD  •DREW HOLCOMB AND THE NEIGHBORS •SEA WOLF  •JD MCPHERSON •TRIXIE WHITLEY  •DEAP VALLY  •PATRICK WATSON *NICKI BLUHM & THE GRAMBLERS  •THE STEPKIDS  •AOIFE O'DONOVAN  •BOMBINO BERNHOFT  •MATTHEW E. WHITE
About the Author:
Comments (0)