ilentertainer | Jan 08, 2013 | Comments 2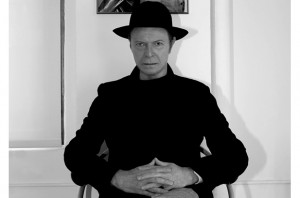 David Bowie has always kept his steely eyes looking forward to the next project, next look, next means of artistic expression and distribution, so it's no surprise that the rock legend would choose his date of birth to reveal the latest addition to his storied canon. Or maybe he just didn't want to have to endure post after post of retrospective mutterings on his 66th birthday. Well, he dictated his own news cycle by releasing the first single, "Where Are We Now?" from his first album of original material in 10 years. Written in New York and produced by longtime collaborator Tony Visconti, The Next Day is set for a stateside release on March 12.
"Where Are We Now?" name-drops locales in Berlin, Germany – the setting for Bowie and Visconti's lauded '70s trio of albums (Low, Heroes, and Lodger) – and finds the thought-to-be-retired (remember, he turned down the London Olympics and rarely pops up in public) chameleon sounding weary, but glittering guitars and flashback synths bounce along towards a spectacular finish.
What do you think?
About the Author:
Comments (2)