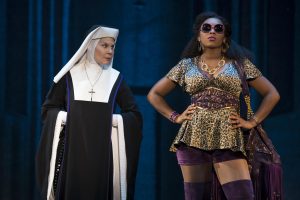 Twenty years may have passed since Sister Act hit the big screen starring Whoopi Goldberg, but it's clearly a role the versatile actress hasn't forgotten. In 2009 she first produced a stage version of the musical on London's West End, followed by a 2011 Broadway adaptation that garnered five Tony Award nominations, which culminated in a national tour (currently in residency at Chicago's Auditorium Theatre through Dec. 2).
Though there are certainly many similarities between the movie and the stage musical (mainly the storyline of an aspiring entertainer who witnesses a murder and hides out as a nun in a convent), the latter shifts the setting from San Francisco in the 1990s to Philadelphia in the heyday of disco. Needless to say, the alteration ensures plenty of glitz, glamour, and gorgeous soul singing from undercover witness Deloris Van Cartier (played by a charismatic Ta'Rea Campbell) whose musical inspirations lie much closer to Donna Summer than an old-time hymnal.
Naturally, those creative inclinations (coupled with plenty of hip-swiveling) put her in instant conflict with Mother Superior (played firmly by Chicago's Hollis Resnik), though that friction just so happens to be the catalyst for some much-needed revival within her dwindling parish. Not only does Deloris whip the choir of nuns into the best vocal shape of their sheltered lives, but she also helps populate the pews, even if that means her nemesis sees a news broadcast of the overflowing congregation and dispenses his henchmen to the scene.
It's at this moment when the show crosses the line from cute and charming to a much more over-the-top existence that borderlines on gaudy. Sure, there's a hint of adventure as the pretend and actual sisters try to beat up the bad guys, but by the time they get to their show-stopping number (in front of the Pope no less), the glitter and sequins adorning their habits shine so bright they practically blind the audience.
At least a priest who channels the persona of Barry White helps provide some less garish comic relief, plus there's a sweet moment of mutual understanding that bridges Deloris and the nuns' seemingly divergent worlds, which miraculously manages to eschew the expected clichés. Add in mighty vocals from Campbell and massive melodies from the equally competent ensemble cast, and it's enough to save Sister Act's unexpected second coming on the stage. (Now through December 2@Auditorium Theatre: www.broadwayinchicago.com)
— Andy Argyrakis
Category: Featured, Live Reviews, Weekly