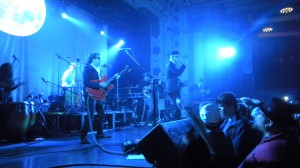 JC Brooks And The Uptown Sound filled Metro on Thanksgiving Eve with its self-described brand of post-punk soul in a show for hometown fans featuring mostly new material and a smattering of favorites. The band is wrapping up more than a year of touring to promote its Bloodshot deubt, Want More, and plan to drop a new disc in 2013.
Brooks didn't look like a guy who'd been doing extended time living out of a suitcase. He rocketed to the stage, possibly invigorated by a chance to focus on fresh tunes. He got the crowd jumping early with a cover of David Bowie's "Let's Dance" and maintained the high energy, channeling his inner James Brown and Prince.
There was little downtime for the band whose intensity only pushed their larger than life front man.  Guitarist/songwriter Billy Bungeroth moved seamlessly between disco ball and wrecking ball while keyboardist Andy Rosenstein, drummer Kevin Marks, and bassist Ben Taylor provided the foundation.
The band broke from new material for the crowd-pleasing, "I Am Trying to Break Your Heart," the sleepy Wilco song they injected with new life. It wasn't until near the end when Brooks, alone behind the piano, slowed things down so he could, "shake off the pain on my heart."
Chicago pop rockers, Archie Powell And The Exports set the stage, adding the perfect contrast to JC Brooks And The Uptown Sound's high energy soul. Songs "Metronome" and "Job Fair" thundered with a jagged edge, tossing aside the polished reserve of the album versions.
— Rob LaFrentz
Category: Featured, Live Reviews, Weekly