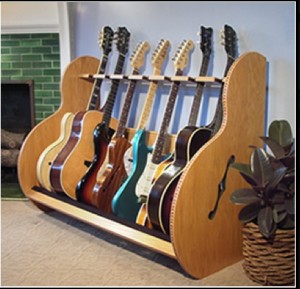 Gear takes a look at this year's batch of "Made In The U.S.A." musical gifts. While it's easy to get enticed by cheaper-priced Asian-made wares, smaller U.S.-based manufacturers (two right here in Chicagoland!) are taking advantage of changing customer tastes and favorable exchange rates by offering higher quality domestic-made products. Here are a few of our favorites:
A&S Crafted Products
The Session Guitar Display Rack
Pennsylvania–based A&S Crafted Products offers their standard Session Guitar Display Rack as a vintage-influenced guitar solution with the same capacity and functionality as their deluxe model, but at a more affordable price ($369 MSRP). For guitarists who prefer to show off their guitars and leave them out of the cases, the Session Guitar Rack saves space and consolidates a guitar collection, keeping a litter (up to seven acoustic or electric) of prized guitars safe and organized.
The handcrafted (American-made) guitar display unit conveniently replaces the clutter and instability of some inferior wooden guitar stands.
Available in red oak or walnut hardwoods, the rack features hardwood rails, veneered sides, and an imported herringbone inlay. An optional accessory tray is available to hold picks, tuners, and other paraphernalia. The company boasts the rack is easily assembled with a single hex wrench in eight minutes – there's online video to prove it. More details can be found at guitarstorage.com
G MUSIC Products
Gboard G20 Pedal Board
Produced in the shadow of Chicago's Edison Park neighborhood, Gboard Pedal Boards are hand-built boards that feature a built-in true bypass effects loop switching system to completely remove effects pedals from an audio signal path when not in use. The result is pure guitar tone funneled directly to your amplifier.
The Gboard also features a tuner out switch for silent tuning while on stage, and a master bypass switch to simultaneously move multiple pedals in and out of an audio signal path.
Constructed of solid pine (or birch plywood) to match the quality of high-line boutique amp cabinets, GBoard pedal bottoms are completely enclosed to conceal and protect various wiring and cable connections. Construction includes tolex, which is available in a variety of colors, including tweed. G Music can even customize a pedal board to match the color of your favorite amp.
The top is constructed of solid aluminum and is pre-drilled with access holes to get most wiring through the body. It's then covered with Velcro loops to easily attach to a selection of pedals (not included). The Gboard G20 has the ability to accomodate five to eight effects pedals, and it has five true bypass effects loops. Prices start at $349 and details can be found at Gmusicproducts.com
Conquest
Custom Shop Instrument Cables
Gear has been using their guitar and speaker cables for years, so we were extra excited when Monee-based Conquest Sound reconfigured their manufacturing process to include three simple premises in producing their Custom Cables: Transfer tone from the instrument to the amplifier or board as if there was nothing between the two. Build the cable tough enough to withstand the rigors of daily road use. And be affordable.
Using the finest materials they could find, they teamed up with Gepco International, and utilized Neutrik, Switchcraft, and G&H components. Final testing vetted dozens of musicians and recording engineers to produce the finest cables the company has ever offered. Pricing starts at $29 (MSRP). Details can be found at conquestsound.com
— David Gedge
Category: Columns, Gear, Monthly, Uncategorized