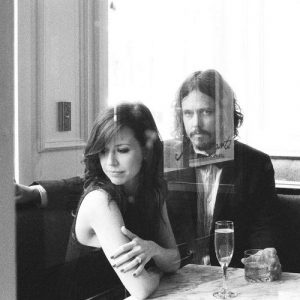 Live On 'XRT
One grand tradition refuses to go the digital route. When you pick up a copy of ONXRT: Live From The Archives, Volume 14 starting on Dec. 4 at local Target stores (or at Target.com) have a set of keys, a pen, or any relatively sharp object (fingernails included, but why ruin a perfectly good mani?) handy to break that stubborn seal on the treasured CD. Yes, you read that correctly – physical copies only. This year's collection of in-studio performances and live concert recordings from WXRT-FM (93.1) hails mostly from the last two years with a Brandon Flowers Live From Studio X session at Martyrs in 2010 being the oldest ("When You Were Young") and Garbage in the progressive rocker's studios last August as the most recent ("I Think I'm Paranoid"). Arcade Fire, Wilco, The Wallflowers, Delta Spirit, The Shins, Two Door Cinema Club, Heartless Bastards, Delta Rae, JD McPherson, and The Head And The Heart round out the tracklisting. The disc normally garners instant collectors' item status, but the inclusion of The Civil Wars' breakthrough hit "Barton Hollow" from the duo's enchanting set in November 2011 at Vic Theatre (literally one of the best shows we've EVER seen) might up the ante since Joy Williams and John Paul White suspended their European tour, citing "internal discord and irreconcilable differences of ambition." Their Facebook message to fans announcing the cancellation of the upcoming dates references new music in 2013, but it sounds anything but civil. Get it together you two! Despite this spat, the pair aren't leaving fans in a lurch completely by offering to reimburse ticket buyers for any "non-refundable" charges incurred because of these "abrupt" changes.
Up All Night
We love marathons, telethons, pretty much anything ending in a "thon" that gives us an excuse to stay awake for 24 hours straight with a purpose. So
The Second City That Never Sleeps: Letters To Santa
improv and music extravaganza hosted by the sidesplitting folks at
The Second City
provides the perfect excuse to streamline coffee and venture out in public wearing yoga pants (and not some trendy Lululemon number – ones that don't fear Cheetos-stained fingers during a 3 a.m. sustenance check). The all-nighter benefits Chicago's Onward Neighborhood House and features comedy from "Saturday Night Live" stars (
Fred Armisen
,
Tim Robinson
,
Jason Sudeikis
– along with main squeeze
Olivia Wilde
) and music by
Wilco
's
Jeff Tweedy
,
Bonnie "Prince" Billy
,
Robbie Fulks
, and
JC Brooks & The Uptown Sound
. The fun starts at 6 p.m. on Dec. 18 in The Second City e.tc. Theatre (1608 N. Wells) and doesn't stop until 6 p.m. Dec. 19. Tickets are $20. Go to
letterstosantachicago.com
for more info.
Miracle Me!
Remember where you were in 1995 when the news hit that Jerry Garcia died? We didn't even listen to the Grateful Dead back then, but the loss still stung and all our Deadhead friends grew beards in memoriam to the jovial ringmaster. As the 15th anniversary of Garcia's death approaches, noted filmmaker Malcolm Leo (This Is Elvis) is eager to turn his three-hour 1987 interview with the singer/guitarist into a feature-length documentary that will also include rare concert footage and home movies. As Jerry The Movie turns to Kickstarter to assist with funding, fans can pledge as little as $1 for their name to appear on a supporter page affiliated with the movie's website and as much as $10,000 to receive an associate producer credit until December 22 at jerrythemovie.com. Unfortunately, none of the pledge packages include grilled cheese sandwiches flavored with a hint of parking lot.
Drugstore Cowboy
Few options await those stumbling out of Double Door, Subterranean, or, if the night really went gangbusters, The Flat Iron . . . until now.
Walgreens
opened a flagship store on the corner of North and Damen in the old Noel State Bank building (so it's purty and doesn't mess with Wicker Park's boho chic aesthetic). Have we reached a new low, getting excited over a drugstore? But this one exhibits a brow bar that offers eyebrow shaping! Not that we plan on sculpting our look after a raucous show, but a bottle of water and Hostess fruit pie would be nice. Oh wait . . .