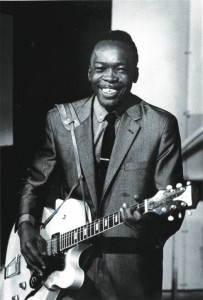 There's no question that the blues serves as the foundation for traditional American music genres, but it's easy to forget that it doesn't necessarily have to take a musical form. The blues can flow through words, movements, and sensibilities. It can inform literature, dance, visual art, and theater. The eta Creative Arts Foundation illustrates this richness and diversity of the blues with an entire theater season dedicated to the style.
Shades of Blues: (A Season Of) Resurrected Works And Reclaimed Music, will feature five plays with a blues focus as well as concerts, symposiums, and post-theater discussions. "We asked our directors to come up with plays they were passionate about for the new season," says eta producing director Kemati J. Porter about how the series developed. "There's been this discussion of losing the blues and it being a forgotten music, especially among African-Americans. We looked at the works selected and discovered that all of the plays were focused around the blues. Each one centers around a blues story, from James Baldwin's iconic Amen Corner, where living a blues life chases a man into the church, to Katori Hall's contemporary Hoodoo Love, a gutbucket blues story full of hoodoo, love, wailing, and singing."
Porter attended the recent Blues Symposium at Dominican University and was struck by the talk of blues being lost. "There's a theory that the genre is being ignored and that the musicians, particularly the women, feel abandoned," Porter explains. "We need to reintroduce the music to see what younger generations can make of it and how it informs them. The blues is at the root of everything that's new. We're saying to our audience to remember these writers and this music – that's the resurrection part. This language and the characters are woven into our historic fabric; we must not forget them."
The eta's Shades of Blues season kicks off on Sept. 13 and runs until July 28, 2013. The series also has live blues concerts scheduled for every second Monday of the month. Call 733-752-3955 or visit www.etacreativearts.org.
Cook With The Hook: Live in 1974 (MVD Visual) serves as a solid testament to John Lee Hooker's legendary stage presence and performance skills. The 45-minute DVD records the 1974 "Down In The Dumps" festival held in a Gardner, Mass. landfill. No joke. If the name isn't bad enough, the editing, camera work, and sound are even worse. Shot in black and white with three roaming, unsteady cameras, it's sometimes hard to follow the performance. But this DVD offers a treat for serious blues fans because it shows The Hook performing his classic hits with unusual ad-libs and lyrics. A master at improvisation, the Delta bluesman alters and adjusts his familiar five-song set so that it sounds slightly unfamiliar and fresh.
"Do you wanna cook with the Hook?" the announcer asks the crowd of young, mostly shirtless fans. Hook strolls out in shades, embellished fedora and lots of bluesman swagger. Opening with "It Serves You Right To Suffer," Hook slowly builds to the tune's chorus until the excitement is palpable. Backed by his Coast to Coast Blues Band, Hooker eases into his chair and seems to savor the crowd's joyful energy. The grainy footage adds to the feeling that this is a rare bit of history that viewers get to glimpse.
Diving into "Sweet Sweet Thing," he glides into the gritty groove with nimble fretwork and a simmering guitar solo. Shots of mass dancing and girls shimmying onstage recall a Woodstock-type of atmosphere on a smaller scale. By the time Hooker arrives at "Boom Boom," you can almost feel the sweat dripping from your face as the July sun and revelatory blues jumps across the screen. On "Whiskey And Women," Hooker begins to shake things up a little. Eschewing his guitar, he slowly snaps his fingers as he explains, "Whiskey and women and nightlife have wrecked my life/I ain't got a dime/No. No. No."
The highlights continue to unfold as he dips into "Boogie." Standing up from his chair, he asks the audience, "Do you feel it? Do you feel it right now? I wanna go higher, a little bit higher!" Stomping and hopping, he commands, "Mama come on! Mama come on and do the boogie baby!" Slipping in elements of his first hit, "Boogie Chillen'" as well as "Night Time Is The Right Time," the song turns into an almost 20-minute jam session with Hooker addressing the crowd like a blues preacher, guiding them onto a higher musical plane. "Nothing but the best and later for the rest," he proclaims as the fans jump and shake. After an encore of another version of the song, the announcer marvels, "A man in his 50s, can you imagine that? He's in his 50s and still doing rock 'n' roll." If only they got to see him at 80. There are more polished John Lee Hooker DVDs out there, but this one is worth it for the rare takes.
Michael "Iron Man" Burks' posthumous release, Show Of Strength (Alligator) represents both a high point in the hard-working bluesman's career and a sad reminder that he's gone. A polished and evocative collection of 12 tracks, this album will ensure that fans remember Burks' striking talent. Opening with the highly charged guitar licks he was famous for on "Count On You," Show of Strength delivers a well-versed overview of the musician's strong points. The guitar skill is evident on every song, of course, but his songwriting and husky vocals are also significantly displayed.
Every track on the album is so strong that it's difficult to pick standouts, but there are several. It's worth noting that Burks co-wrote five of the release's 12 tracks and he supplies extra resonance on each one. "Take A Chance On Me, Baby" flows with slow-burning emotion, while "Cross Eyed Woman" serves up melancholy guitar riffs and passionate blues belting. "Little Juke Joint" effectively conjures up the good times of the Southern dance spots he cut his teeth in and "24 Hour Blues" showcases the eloquence of his smoky vocals. On "Valley Of Tears," a catchy beat pairs with stinging leads for up-tempo fun, while the heart-wrenching blues ballad, "Since I Been Loving You" is steeped in tangible desperation.
Burks didn't pen the album's final track, but it is the most poignant. "Feel Like Going Home" finds his booming voice altered to a gruffly soft tone poured over a gospel piano. Crooning, "Lord, I feel like going home/I did everything I could/I tried and I failed/And I'm tired and weary," his lines sound like a haunting last statement for the sorely missed.
Artis's Lounge, the iconic South Side blues joint, closed its doors after almost 30 years. Famous for Billy Branch's Monday night blues jams and a down-to-earth charm that can never be duplicated, blues fans all over the world will miss Artis's."
— Rosalind Cummings-Yeates
Category: Columns, Monthly, Sweet Home