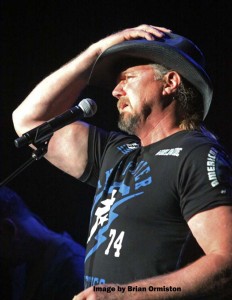 When a guy is 6 feet 6 inches, it doesn't take much to make a grand entrance. All of Trace Adkins, cowboy boots and black hat, burst through a couple of barn doors July 20th at the Rialto Square Theater, bowed to the crowd, and started telling stories.
His is the Songs & Stories Tour, which seems to be the summer theme this year for anyone on the road. Adkins, playing to a full house in the stately Joliet venue has a dry but shy humor. Noticing a fan (stalker) that looked and dressed just like him in the first row, he quipped, "I'm watching you man," before jumping into his first of 21 songs, "Days Like This."
It was an odd night, given what had just happened in Colorado. "Not that it's my business," but he related his story about getting shot (by an ex-wife) and how he'd defend "the next guy's right to carry, he just better shoot before I see him coming." It wasn't a statement as much as "it's just the way it's gonna be" as he launched into "Always Gonne Be That Way." With his deep, baritone croon working the front rows to the back balcony, he cranked through a softer 10-song set before intermission.
With five daughters at home, it's no wonder Adkins keeps touring. His band — "I think they're pretty good" — stretched out with the old Van Morrison cut "How Long Has This Been Going On?" followed by Larry Graham's "One In A Million." While the second set got a few butts out of the seats, his parental tearjerker "You're Gonna Miss This" followed up by "Just Fishin'" were high points of the evening. Finishing with "a sensitive love song," the timeless "Honky Tonk Badonkadonk" even got the security guards grooving.
Adkins doesn't bring in the fancy light shows with the background video screens. There isn't any jumping around, guitar changing, or piped-in smoke and fireworks. Aside from the occasional pelvic thrust and a short walk across the stage, there isn't a lot of upside for taking all those iPhone videos. Unless one's recording lyrics and stories. Sometimes plain and simple is enough.
— Brian Ormiston
Category: Featured, Live Reviews, Weekly