So many incarnations of The Beach Boys have hit the road over the years, that it's often tricky to keep track of who's in the band. But considering 2012 marks the 50th anniversary of summer's supreme act, surviving co-founders Brian Wilson, Mike Love, and Al Jardine, alongside veterans Bruce Johnston and David Marks, traded acrimony for harmony long enough to hit the studio and launch a world tour.
The June 5th release of That's Why God Made The Radio (Capitol) marks the band's first album of entirely original material since 1992, and given the wealth of material from both yesterday and today, it was no surprise the group delivered a generous, more than 40-song set during the first of two packed Chicago Theatre shows. In addition of all the major hits, the Boys (now well into manhood in their 60s and 70s) also dusted off several deeper album cuts and a new tune, truly honoring the tour's anniversary premise.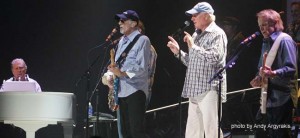 "Do It Again" served as a fitting start, not only because of the night's reunion nature, but also due to harmony-heavy pleasantries that found the five sounding not entirely perfect, but still generally spry. Of course, having a younger 10-piece band do some of the heavier instrumental lifting and supplement the higher notes didn't hurt, but the elders had no trouble keeping up with the spunk of "Surfin' Safari" or nailing the gentle sweetness of "Surfer Girl."
As has been the group's tradition, Love took many of the leads, sounding especially confident throughout the carefree "When I Grow Up (To Be A Man)," "Be True To Your School," and "Little Deuce Coupe," though he also shared the spotlight with his cousin Wilson on a handful of occasions. The former St. Charles resident may have looked sheepish, if not entirely oblivious, behind his piano (and like a scene from Weekend At Bernie's on the bass during the encore), but sounded vocally capable throughout the ambitious Pet Sounds suite "Sloop John B," that same album's bittersweet ballad "I Just Wasn't Made For These Times," and the Smile-bred "Heroes And Villains."
Outside of his nimble guitar duties, Jardine jovially crooned his way through "Help Me, Rhonda," while Johnston also packed plenty of vocal chops, despite detouring with "Disney Girls" (second only in corny comparison to "Kokomo"). Even dearly departed members Dennis and Carl Wilson popped up on video screens to deliver their previously recorded parts of "Forever" and "God Only Knows," respectively, as the present players added their signature backing vocals.
The new but simultaneously nostalgic-sounding single "That's Why God Made The Radio" also made it apparent The Beach Boys still have a knack for crafting melodic masterpieces reminiscent of Pet Sounds' pop sensibility crossed with the regarded (albeit less successful) Sunflower's tedious craftsmanship. As the night reached its apex, the highlight reel of oldies but goodies like "Good Vibrations," "California Girls," "Do You Wanna Dance?," and "Fun, Fun Fun" sounded just as sweet as ever, which, coupled with the earlier favorites and rarities, made for an exhaustively comprehensive celebration of America's ultimate band.
— Andy Argyrakis
Category: Featured, Live Reviews, Weekly