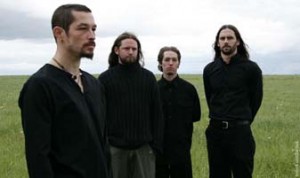 Yakuza are following up their Pro-found Lore debut, Of Seismic Consequence, which was jonesed on several national 2010 "best-of" end-of-year lists and was widely heralded as the band's best album to date.
Now Yakuza have entered the studio once again, to craft a brand new long-player that will be released later this fall.
Last month, the band tracked at Engine Studios in Chicago to track their sixth full-length effort. Acclaimed producer Sanford Parker (Nachtmystium, Yob, Rwake) is once again at the controls.
Lead vocalist/songwriter Bruce Lamont comments, "There is one common thread in Yakuza records: we thrive on variety. We try to go to places we've never gone before and create open space — being experimental so to speak, but we still have a love for a good melody. Sanford is a big help bringing the sounds together. Lyrical themes focus on life and death, the light and the dark. Our last record was a reaction, somewhat of a warning call for what has been happening globally and spiritually — but not in a religious sense. This album is the aftermath, the balance between the light and the dark. And as dark as it gets, there is always light at the end of the tunnel."
The band are also preparing a brand new movie. Director Justin Baron has filmed a documentary on the band's history and dynamic sound. Be That As It May: Yakuza's Seismic Consequence will be released later this year and features appearances by members of Mastodon, Nachtmystium, Triptykon/Celtic Frost's Tom G. Warrior, and many more. Baron is in need of funds to finish the project, and has launched a Kickstarter to expedite the process.
Popular Chicago band, Perfect Kiss will release their first ever studio-recorded single, "One Kiss." One-thousand free downloads are available at soundcloud.com/perfect-kiss/one-kiss. Once the thousandth download goes, the track will be available on perfectkissmusic.com. The single was recorded and mixed by Andy Shoemaker at Rax Trax Recording in Chicago, with additional recording by Noam Wallenberg.
The Hawthorne Effect, a four-piece rock band from Chicago, are releasing their full-length debut, Awakefulsleep, July 10th through Red Mist Records,
The band's chief songwriter John Jauch (Smoke Off Vinyl/Killing The Enemy) wrote all the tracks, which were arranged, mixed, and mastered at Stranded On A Planet studio in Chicago, under the technical and musical prowess of producer Scott Fritz (Nadia Ali, Martha Berner, Cavalier King) and features the talents of several studio musicians: including Fritz, William Sprawls, Tyson Ellert, and Bethany Fritz.
The Damn Bats have finished recording their four-track EP/CD The Dracula Crest, and will be releasing it at a special show on June 22nd at The Mutiny in Chicago. The collection will contain tracks "Doomed" (featuring Rat Scabies), "Kill Or Cure," "The Raven," and the just recorded "Dracula Rises."
Uptown Recording has ventured outdoors. Uptown's mobile recording unit is ready to record your live show. Visit www.uptownrecording.com for rates on mobile multitrack recording.
Planet 10 studios in Palatine is currently tracking the following artists: Frankie Sullivan of Survivor, Expired Empire, Jilla, Dysfunctional Mariachi, Daughter Of Man, Ryan Karey, Signature, Naski Corelo, and BlackBox.
Hey Studiophiler,: To get your studio or band listed in "Studiophile," just e-mail info on who you're recording or who's recording you to ed [at] illinoisentertainer.com, subject Studiophile, or fax (773) 751-5051. We reserve the right to edit submissions for space. If you're recording in June, let us know. Deadline for July 2012 issue is June 15th. We need your news, and you need us to print it.
Category: Columns, Monthly, Studiophile