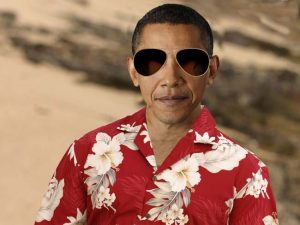 The Portillo's Music Shell? President Obama flushed his Al Green capital down the toilet when he butchered the word "Lollapalooza" in his explanation for the G-8 deserting Chicago. "La Palooza," as he coined it, certainly inundated the White House press office with "WTFF?" e-mails, along with purposefully incorrect syllable breakdowns of Coachella and Bonnaroo to even the field. British Prime Minister David Cameron got in on the action, and immediately dispatched VIP tickets so Big Boss Barry could attend the "reeding" festival in England this summer.
STRAT'D FOR CASH
The mixture of music and corporations makes people nervous — nothing new there. But with Fender Guitars, the nightmare returns. It first stepped on a rollercoaster when founder Leo Fender — due to his health — sold the company (the manufacturer of iconic instruments like the Stratocaster, Telecaster, and P-Bass) to CBS in the '60s, which gave birth to the slur known worldwide as a "Japanese Strat." Owned today by a private-equity firm, its overseers decided in March to file with the Securities & Exchange Commission for a $200 million initial public offering. (Gibson Guitars is a private corporation, which means its shares are not traded publicly.) Naturally, red flags have flown because corporations — by law — are obligated to make money for their investors, and when times are tough they cut costs. Half of the IPO money would be directed to pay down a $100 million loan; part of the company's pitch is to invade the Chinese and Indian markets. Wall Street's worry, however, is the continued decline of rock music in the United States, mocked by the sales growth of DJ and computer equipment.
WELL, THAT'S A (LOT OF) CHEAP TRICK!
Through an exclusive agreement with Popmarket, Sony's reissue arm Legacy began releasing complete-album collections featuring such heavy hitters as Miles Davis, Judas Priest, John Denver, and Billie Holiday, though the one that naturally sticks out to us is Cheap Trick's The Complete Epic Albums Collection. To some, the requested $100 bounty represents a bargain, since it includes 13 releases and counts the rare Found All The Parts EP among them. You also get 1998's expanded Budokan, and scaled-down reproductions of all the album sleeves. To others, it'd be masochism to spring for anything including the press-savaged All Shook Up, The Doctor, and Busted. (A similar argument arose on the Popmarket page for a Lou Reed bundle, as fans weigh the risks of purchasing Metal Machine Music.) At least the ratio of good-to-bad isn't as low as Robert Christgau's rationale for agreeing to like Cheap Trick: two pretty guys, two ugly.
— Steve Forstneger
UNION JACKED UP
Molding eager unknowns into the next big thing on "The Voice" is just Adam Levine's day job. The Maroon 5 frontman took a break from his mentor duties on the NBC reality competition to preen and prance for Rosie O'Donnell, Billy Dec, and a few hundred fawning fans (er . . . rewards members) in Union Station's cavernous Great Hall as part of a four-city concert extravaganza hosted by Caesars Entertainment Corporation. The "Escape To Total Rewards" promotion on March 1st beamed in Lil Wayne from L.A., Mariah Carey from New York, and Celine Dion from Sin City via satellite between quick sets from Sara Bareilles (channeling Beyoncé on a "Single Ladies" better suited to a solitary night in than a wedding bouquet toss) and Levine's crew. Maroon 5 flipped the formula by starting with the inescapable "Moves Like Jagger," before seamlessly transitioning into the band's string of radio hits that double as earworms. Not even a rattling train ride home can push out the remnants of Levine's helium voice.
— Janine Schaults