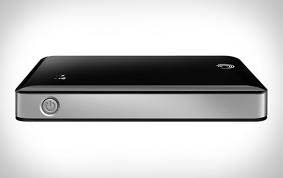 If you're somewhat obsessive about backing up your hard drive on your iPad or laptop, but have a problem constantly reconnecting cables while shuttling between work, home, or the recording studio, Seagate may have an answer with its wireless Goflex Satellite, a wi-fi version of its backup hard drive.
For about double the price of what you would pay of a regular 500GB USB drive, early indications are this hard drive will save you the hassle of corded backups or paying on online service to backup your files.
The Goflex Satellite hard drive is an idea that's been years in the making. It's a pocket-sized hard drive that can connect to any mobile device including mobile phones, laptops, desktop computers, and tablets that are wi-fi connectable. It opens a way to store music and movies and also lets you stream your files when you get the urge. Most importantly to "Gear" readers, users can download music files (e.g., ProTools files) from the home studio setup. On paper it's a great idea, but as a first-generation model, Seagate has some gremlins.
Though firmware and software updates promise eventual solutions, the Goflex prevents adapters from using a simultaneous wi-fi connection while uploading files. In other words, it blocks you from surfing while you wait for other files to download via wi-fi. Laptop users also know that wi-fi connections are relatively slow compared to wired connections. That means large music and movie files can take up to 30 minutes to transfer from the Goflex to your other mobile device.
Despite those drawbacks, our demo model didn't have any problem streaming a movie with a robust Internet connection. The key to the Goflex is to have a strong connection and a little extra patience. Suggested price is $249; visit www.seagate.com for details.

Martin
Mamas & The Papas D-28 Custom Artist Edition Guitar
This guitar is a peculiar one, a commemorative guitar for a band who are known almost exclusively for vocal prowess – and 75-percent of the members are dead.
Martin's Mamas & The Papa's D-28 guitar "pays tribute to the enduring musicianship, songwriting, and vocal harmony of The Mamas & The Papas and is inspired by a vintage Martin D-28 that provided much of the rhythmic underpinning for hits such as 'Cali-fornia Dreamin" and 'Monday, Monday,'" according to the folks at Martin. The edition will be limited to no more than 100 special instruments, according to a press release.
The model is finished with a polished gloss lacquer and a vintage-inspired, '60s-style aging toner. Each guitar features a label signed by C. F. Martin IV and Michelle Phillips, the last surviving member of the band. For info visit www.martinguitars.com.
Alfred
Rolling Stones Songbook
In honor of the Some Girls album reissue for The Rolling Stones (previewed on page 24) Alfred is releasing its "The Rolling Stones: Lyric & Chord Songbook" as a timely reference guide to break down Glimmer Twins songs in lyric/chord format with all of Keith Richard's key guitar riffs in TAB. (He walks you through before he makes you run.)
Heavy on dissection of their early hits like "19th Nervous Breakdown," "Brown Sugar," "Get Off My Cloud," "Honky Tonk Women," "Jumpin' Jack Flash," "Paint It Black," "Ruby Tuesday," and "(I Can't Get No) Satisfaction," this lyric and chord songbook is a friendly reminder of a time when the band was considered a bunch dirty punks during the first British Invasion. And then they got dirtier. MSRP is $19.99. Visit www.alfred.com for details.
— David Gedge