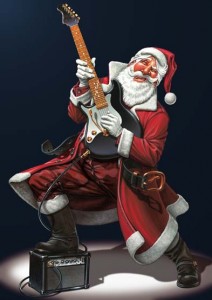 The cover photo on Taylor Swift's Holiday Collection – lying apparently topless on a futon while clutching a guitar – set a new low for increasingly tossed-off seasonal albums. Seeking to inject some life into winter music, we asked our staff to dig up the best of what's around.
In no order: "Christmas Eve/Sarajevo" by Trans-Siberian Orchestra; "Little Drummer Boy" by Jars Of Clay or Bob Seger; "Silent Night" by Sinéad O'Connor; "God Rest Ye Merry Gentlemen" by Barenaked Ladies with Sarah McLachlan; "Merry Christmas Baby" by Chuck Berry or Bruce Springsteen; "No Presents For Christmas" by King Diamond; "Black Xmas" by Venom; "Cashing In On Christmas" by Bad News; "Christmas With The Devil" by Spinal Tap; "Christmas (Baby Please Come Home)" by Darlene Love; "Merry Christmas From The Family" by Robert Earl Keen; "I've Got My Love To Keep Me Warm" by Dean Martin; "Christmas In Hollis" by Run-D.M.C.; "Blue Christmas" by Elvis Presley; "Run Rudolph Run" by Keith Richards; "Re-Gifting For The Holidays" by The Alice Project; "She Feels Like Christmas Day" by The Critics; "Christmas Time" by The dB's; "This Christmas" by Shoes; and "Christmas Ride" by Fight. Sorry, JBeebs. Some other time?
Invigorated
So how about 2011? If we can carve a list of the top seasonal hits in 50 years, certainly we can widdle down the best overall from the past 12 months. Nopers. When asked to submit their top songs, our writers overlapped zero. While that bodes well for the predictable Spin/Pitchfork flavor of the annual Pazz & Jop poll, it also underscores the musical disunity MP3 players have sown. Even when two plucky AOR-leaning IE scribes could settle on a band (Foo Fighters) they couldn't agree on a tune ("Walk" vs. "Rope"). Terrence Flamm made some space for local bands on his ("Miss You On Tuesday" – The Handcuffs; "Broken Baby Dollhouse" – Phil Angotti; "Pictures Of A Masquerade" – Bad Examples; "How Dangerous" – Smoking Popes; "Monitor Me" – The Laureates), so we'll print those before restarting this machine and seeing if we can't get a little conformity.
Letters Of The Month: D & J
Heading someone off at the pass isn't common hip-hop lingo, but it's what Def Jam Recordings: The First 25 Years Of The Last Great Record Label does. Proclaiming "Our artists speak for themselves ('cause they can't sing)" repels rockist criticisms of the ultimate rap record label. The nearly 300-page, LP-shaped book attempts to capture what Rick Rubin and Russell Simmons set out to build in the early '80s. From lucid LL Cool J, Slayer, and Beastie Boys anecdotes to clearly hopeful, promotional myth-making about Young Jeezy and Rick Ross, the book carefully captures the co-optation of an American dream, but one that is distinctly American. Whatever your opinion of hip-hop culture, this is the story of how it happened, and no one comes out unscathed.
Motor Town
"Come On Christmas" aside, Cheap Trick nestle into our December coverage upon the announcement of the band's plans to "curate" a Chicago-themed music-history museum on the site of an old Buick dealership on Michigan Avenue. Pounded into the old 2245 S. space on the former Record Row/Motor Row district will be a combination "one-of-a-kind eatery, unique musical instrument museum, radio station, and performance space as well as rooftop and outdoor and event space in the future Music Row in Chicago." As we've been chronicling, this South Loop revival has been enlivened since Mayor Emanuel took office, but has gained considerable steam in recent months. Of course, it'll take more sustained investment than a rock band's proclamation to revive the area, but the fear put into the band from the disaster at this summer's Ottawa (Canada) Bluesfest means they'll be home to work on things.
— Steve Forstneger