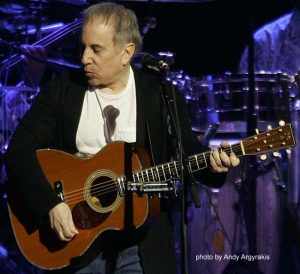 Tipping the scales of 70 seems to have lit a spark in Paul Simon, not necessarily enhancing his laid-back personality, but giving him renewed creative vigor. The recent studio set So Beautiful Or So What (Hear Music/Concord Music Group) is among his most magnetic since Graceland (though it favors folk over African arrangements), while his previously intermittent touring patterns were replaced with a second American leg of a tour that first visited the Vic and Chicago Theatres earlier this year.
Setting up shop at the Rosemont on Sunday the 13th brought that same sort of intimacy towards his soft-spoken songs, as opposed to the arenas he played on Simon & Garfunkel's reunion tour. But this was clearly a solo show, short on the duo's hits and brimming with Simon's career-spanning reflections. Speaking of Graceland, the show kicked off with the rhythmic "The Boy In The Bubble," which highlighted his multi-cultural, eight-piece band and found Simon in a joyful mood.
The fresh follow-up "Dazzling Blue" maintained the motif of percussion-heavy grooves, which escalated even more during the reggae-influenced "Mother And Child Reunion." Simon also demonstrated his vast appreciation for several other genres, from the roots rockin' Junior Parker/Sam Phillips-penned "Mystery Train" to Chet Atkins' jazzy finger-picker "Wheels," and, later, a smoldering cover of Bo Diddley's "Pretty Thing" (where he traded his acoustic guitar for harmonica).
Come his own "Slip Slidin' Away," all attention turned to Simon's ultra-smooth vocals, which have held up quite well, especially considering he's been on the road all year. Additional pitch-perfect flashbacks included a pair of Simon & Garfunkel favorites, "The Only Living Boy In New York" and "The Sound Of Silence," the latter of which was especially poignant as a solo acoustic selection.
The only problem with the night was Simon being somewhat stingy with the hits, especially the duo years that he's rarely shied away from before. Classics like "Mrs. Robinson," "Cecilia," and "The Boxer" were sorely missed, as were his own quirky experiments "Me And Julio Down By The Schoolyard" and "You Can Call Me Al."
However, it was hard to complain considering he played more than two hours and 26 tunes, but nonetheless, a better balance could've certainly been struck. At least his encore was padded with the jams "Kodachrome," "Gone At Last," and "Graceland," plus the gorgeously enduring "Still Crazy After All These Years," which, coupled with his equally solid new cuts, reinforced Simon's role as one of the greatest living songwriters.
— Andy Argyrakis
Category: Live Reviews, Weekly