'Jubilee Showcase' Revisited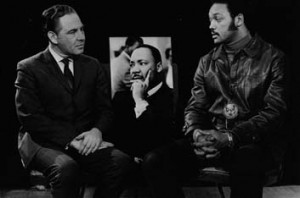 Soul Train has a reputation for being Chicago's groundbreaking showcase for African-American musicians.
But six years before Don Cornelius launched that great show on WCIU-TV, there was "Jubilee Showcase."
It presented the nation's top gospel, spiritual, and jubilee musicians on WLS-TV Channel 7 every Sunday at 7 a.m. from 1963 to 1984. It was one of the only places where viewers could see black musicians and a black audience on a show aimed at black people – and certainly the only one featuring inspirational music.
"Jubilee Show-case" was the brainchild of host Sid Ordower, a white civil-rights activist, broadcaster, and World War II hero who helped found Operation Push (a 1969 guest on the show was the Rev. Jesse Jackson), and was instrumental in helping Harold Washington get elected mayor. Ordower, who hosted the show, described gospel as "that fine American music."
"When we started out, gospel was not as big as it is today," he told the Chicago Tribune's Howard Reich in 1992. "We had to find the audience and build it, so we gradually won over their confidence. Because back then, most people didn't even know what gospel music was. So we were trying to play to a general audience and to win their confidence, which I think we did."
Performers range from Otis Clay to Martha Bass to Clefs Of Faith to the Operation Push Chorus to Thomas Dorsey. Some of them – including Andrae Crouch, Inez Andrews, Jessy Dixon, and The Soul Stirrers – appear on a riveting new DVD of show, produced by Ordower's son, Steven (who's also working on a related documentary).
Watching artists like The Staple Singers, who perform with the accompaniment of just Pop's twangy guitar and handclaps, it's easy to make the connection with Delta blues and early rock 'n' roll.
The music is, in a word, amazing – even to this old punk rocker.
Not to mention inspiring.
To purchase the Classic Moments From Jubilee Showcase call (877) 459-7904 or visit jubileeshowcase.com – which also has videos and background info, and details about an upcoming documentary.
GO JOHNNY GO!: We were thrilled to accidentally run across Jonathon Brandmeier's new show, "Brandmeier," on WMAQ-TV's "Chicago NonStop" (digital channel 5.2, or Channel 52 on my TV).
It's about time he's back on the air – even if it's just a weekly half-hour sub-channel TV show.
(Brandmeier was unceremoniously dumped by WLUP-FM (97.9) in November 2009, and has been on the loose ever since.)
During the first "Brandmeier" TV show, he interviewed a champion air guitarist; the Wisconsin man who got a $166 ticket for giving the finger to Governor Scott Walker and driving back and forth in front of his house; and Californian Chuck Testa, whose deadpan taxidermy ads are a hit on YouTube. Johnny B. also riffed on the involuntary manslaughter trial of Michael Jackson's doctor, Conrad Murray.
The show is in the midst of a 10-week run.
Brandmeier says on his website, "It's a work in progress for all involved, but I'm thrilled to have the opportunity."
Here's hoping he'll loosen up and add a bit of the heartfelt venom he displayed in his scathing 2010 video, "Johnny B- The Unemployed Radio Mo Fo" – which you can still view at johnnybontv.com.
ODDS N SODS: We're disappointed but not surprised by the mainstream media's coverage (or lack thereof) of the Occupy Wall Street movement against corporate abuse of the American political system. After all, the media is owned or financed by the very banks and corporations that are being protested. The local press has also largely ignored Occupy Chicago, located between the Federal Reserve Bank and the Bank Of America building on LaSalle Street. At press time, the only ones that had noticed were The DePaulia, Huffington Post, In These Times, and NBC-TV Channel 5. But, as one sign at Occupy Wall Street proclaimed, "The People Are Too Big To Fail" . . . Another nail was hammered into Radio Arte's coffin when program director Carlos Mendez was forced out of the low-power Pilsen-based nonprofit station, where he also served as engineer and on-air host. WRTE-FM (90.5) was put up for sale by the Mexican Fine Arts Center Museum earlier this year, but as of presstime there were no takers . . . Muckraking not dead! We loved Jim DeRogatis' story about the story behind the mess that Lollapalooza left behind in Grant Park. It's on his Chicago Public Media "Pop N Stuff" blog on www.wbez.org. It's right up there with Mick Dumke and Kevin Warwick's excellent Chicago Reader story, "Basketball Controversies," in which they examined race and class through the lens of public basketball courts. If only this type of reporting were in the 99 percent – and not the 1 percent – of what usually appears in the media.
— Cara Jepsen