After The War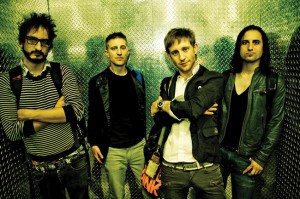 When one mentions Disneyland, perhaps the most immediate connotation is "The happiest place on Earth" – a location built around innocence and happiness where one can engage in childlike celebration.
Such is not the case for Madina Lake.
Appearing: December 16th at Mojoes in Joliet with Me Talk Pretty.
"We called [our situation] 'Disneyland' to try to cushion the blow on our own end," quips bassist Matthew Leone. In late 2009, the band were dropped by Roadrunner Records, which had released the group's Attics To Eden only months prior. It sparked a run of bad luck that was of cartoonish proportions.
"Once the record deal was gone, [our] management company just absolutely disappeared," he recalls. "From booking agents to everybody, as soon as the band gets dropped, nobody's conviction really [held] enough weight to stick by the band. Everybody bailed. So, we were sitting here as a band that is left sort of with nothing but our conviction, our hard work, and belief that it will ultimately work out."
Unfortunately for Madina Lake – which includes brothers Matthew and Nathan Leone, drummer Dan Torelli, and guitarist/programmer Mateo Camargo – the worst was yet to come, especially for the Leones. For Nathan, that meant a painful and sudden romantic separation.
"We're not really one of those bands that writes a lot about heartbreak," Matthew submits, "but Nathan had been dating this girl, who he thought was the love of his life, and, they were talking about plans to get their life going, to move forward with the relationship, and it was a very fulfilling feeling for Nathan. And suddenly, that all vanished. There was like a sort of, I guess, a mental condition that was veiled, that Nathan didn't see. It sort of came undone, and she disappeared from his life overnight."
Yet nothing could have prepared anyone for what would happen to Matthew Leone in June 2010. Coming upon a violent domestic fight, the bassist leapt into action to the woman's aid. The heroic gesture would prove costly, however, as the attacker turned his aggression on the interloper. The beating not only left Leone with a fractured skull, broken jaw, and swelling in his brain, but put him in a five-day coma. It was a trauma that inspired and heavily plays into the band's latest full length, World War III (Razor & Tie).
Released this past September, WWIII is the sound of artists finding solace in their craft. That the record was made at all, let alone released not even 18 months after the attack (whose perpetrator awaits trial), is nothing short of a miracle. It's a turnaround that's as surprising to Matthew as anyone, and he says the album's creation was "one of those situations where you have to be totally flexible and prepared for when the sort of inspirational iron strikes. And, that happened to strike so hard and in such an overabundance that, we were all so filled with an emotional intensity, and enduring and surviving something that has been, really, the pinnacle of our challenges of life to date. So, to try to schedule or plan things under the circumstances we were dealing with last summer was impossible. I was beyond fortunate enough to get myself to a point where I was able and capable of doing it, just while Nathan was being able to translate everything we were enduring into the lyrical sentiment that he wanted. So, as soon as I was ready to do it, we were in there doing it to the best of what my energy would allow and everything else."
Not surprisingly, the record serves as therapy.
"People talk about when they're making music it's sort of this cathartic purging for them," he says, "and, yes, it was cathartic in that sense. Almost beyond any sort of measurable degree. It became, obviously, the most personal and important record we'd ever done. So we decided at that point that all we cared about was this record seeing the light of day."
Indeed, WWIII is a highly personal listen, as evident in the anthemic and unsettled "Across 5 Oceans," which offers a chorus of "Now that it's over/I'm moving on/I got a life of mine to live." While the lyrics are a response to Nathan's lost love, they could just as well have been written to reflect Matthew's situation, even having been penned prior to the attack. It's a parallel the bassist sees, as well.
"Nathan's lyrics have always had this weird, sort of prophetic element to them," he confirms. "To where, at the time, for whatever purpose he's writing them, they always wind up having this grave significance to events that would happen later. When I listen to that song, I barely even remember the intent with which he wrote them, but I am able to internalize them and see them for the sort of big picture."
Yet nowhere is the record more vulnerable and a brother's pain laid more bare than on the deceptively poppy "We Got This," the emotional centerpiece that recounts how Nathan learned of his twin's assault. If you find lines like, "I missed two calls and when we talk/you ask me why you're in an ambulance," particularly gut-wrenching, you're not alone.
"I heard the lyrics one time, and, that was the last time that I would ever hear those," Matthew admits. "When I was recording my parts to it, I had them mute the vocal track because I could not even get through the song while hearing those.
"When I was writing my bassline," he continues, his voice cracking at the thought of the track, "it was probably one of the most simplistic on the album, because that was really me just trying to survive and get through it, knowing what that song meant. It's just too powerful for me to deal with."
Not every song on WWIII bears such weight. The especially crunchy and riff-laden "Imagineer" is the result of a collaboration with Billy Corgan. The pairing came after Smashing Pumpkins headlined a benefit for Matthew at Metro in July 2010. At the time, Corgan had never met them.
"[Billy] began to investigate who I was and who we were," he says. "And then, fortunately, the people he asked, the [Metro owner] Joe Shanahans and the [ex-Filter/SP drummer] Matt Walkers of the world, who we do know, they told him a little bit about me, and sort of the spirit that I've had throughout my relationship with them, and that sold him on doing the show. So, after I got to a point where I was coherent and comfortable enough, about a year later, I wrote an e-mail thanking him. And, of course, the three or four people I showed it to, including the person who was going to pass the message on to him, they're like, 'Look, this is a little obscure, it's a little out there. Are you sure you want me to send this?' and, I said, 'Yeah. Because it's honest, and it's a little bit eccentric, and that's who I am. So just send it.' So, against their better judgement, they did. And, as luck would have it, it resonated with Billy Corgan, and he wrote me back just such a profound, beautiful, powerful e-mail that it blew my mind. And that set off a correspondence between him and myself, that ultimately led to him inviting us to Sedona [Arizona, where Corgan has been recording new Pumpkins material] to write a song. And, I was going to go out there to do a final phase of my healing, to try to get ready to tour, 'cause that's such a perfect place to do that. So, Nathan and I went out there and he welcomed us into his world, we spent five days in the studio with him while he was working on Pumpkins stuff, and then, on day six, he said, 'Well, let's work on a Madina song.' And, there we had it."
The last chapter in a narrative running through their catalog, the band's real-world tragedies played right into World War III's themes, and vice-versa.
"We wound up with a record that really epitomizes everything that we were going through and went through," Leone affirms. "And, as luck would have it, it sort of also played right into the third and final installment of that sort of over-ambitious, grandiose concept thing that we tried to do. What we had set out to postulate from day one," he continues, "was we sort of noticed the collective shift in values to, I guess, people really sort of exploring themselves and their consciousness and their subconscious, from, wondering what this is all about, and wondering if we're in this world or that world."
Understandably, the trials and traumas of the last two years, from label trouble to the attack, have granted the band a whole new perspective. As such, Leone speaks of the band's "dramatic shift in priority in that it no longer became about how many [records] are we gonna sell, are we going to be able to keep our deal, are we going to be able to sustain our life and career making music, how is it going to be perceived by press, blah blah blah. After everything happened, none of that mattered."
He explains, "Before in our career, achievement was always something that we were trying to attain that looked different to us. Like, achievement was, 'Is it affecting this many people, or making sure these people took it the right way and understood it?' None of that matters. Achievement to us took on a whole new meaning, and that's for the best. So we could drop a little bit of our obsessive neurosis about how many people were hearing it and whether they liked it or not. It turned into something that was already an achievement in our mind, the second we delivered it. So, we now just feel accomplished and grateful and overjoyed that it is a record that is out there. This one was for us. This is like our selfish sort of desire to just get this out and let it be cathartic to us and that's fine. We weren't attached to any outcome, and we're still not."
For the members of Madina Lake, being here today is enough.
— Jaime de'Medici