The One Who Got Away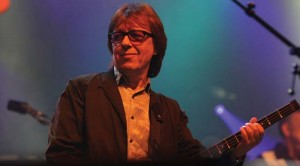 Walking away from what some consider to be the greatest rock 'n' roll band might seem like a shocking and perplexing decision. But when speaking with Bill Wyman about his retirement from The Rolling Stones to form The Rhythm Kings, it was simply a matter of personal preference. Though he's told the tale before, the founding bassist – who'd logged 31 years of service – was simply sick of traveling by air and, perhaps more importantly, wanted to dive deeper into vintage blues, jazz, and good old-fashioned rock 'n' roll.
"There was a gap [after leaving The Stones in 1992] when I wrote a book, opened a restaurant, and got married, so there was a space before starting The Rhythm Kings," he explains via phone from his U.K. home. "When we started touring, the audience would yell out for Stones' songs and I used to say, 'Sorry guys: this ain't The Stones, this is The Rhythm Kings and we don't do Stones songs.' Then soon after that, nobody ever yelled anymore and they just accepted what we were doing and they loved it. I'm still doing it with them because it's such a pleasure to go out there and play just a whole variety of music to an audience. We'll play a blues song, then a soul song like 'Land Of A Thousand Dances,' then we'll do a ballad, then a JJ Cale song, then maybe Fats Waller, Chuck Berry, or Elmore James – everything's possible in this band."
Wyman's quest for variety over the past decade and a half arrives on full display on the brand new Collectors' Edition Box Set (Proper American). The five-disc set bundles the studio projects Struttin' Our Stuff (1997), Anyway The Wind Blows (1999), Groovin' (2000), and the double-disc Double Bill (2001).
The 66 tracks span four hours, excavating obscure memories from Louis Armstrong, Billie Holiday, Cab Calloway, and Louis Jordan, alongside a slew of like-minded originals.
"We basically just want to show people there's so much nice music out there that [has been] forgotten about," explains Wyman. "You do have your collectors who know about this kind of music, but the general public isn't aware of certain people from the past. It's nice to do these archeological digs into music and come out with these little gems from the '20s to the '70s. We just redo them as close to the original as possible, while making sure you capture the original essence."
Though fans in England have already become privy to such discoveries, Collectors' Edition Box Set marks the first time American audiences can devour the discs domestically. And considering Wyman insists he'll never board an airplane again, it remains the only opportunity for American fans to capture The Rhythm Kings in any format.
"We've had offers to tour America, Japan, Australia, and everywhere really, but I don't fly anymore, so that's out the window," he assures. "I might come if you build a tunnel or a bridge, but I did it 40 years and I just got sick and tired of it. I was flying when I was doing my military service way before The Stones, and so I've been flying all my life. With The Rhythm Kings, we get in a coach and drive through Scandinavia, Finland, Eastern Europe, Lithuania, Poland, Hungary, the Czech Republic, Germany, Italy, Spain, Portugal, France, Belgium, Holland – you name it. And we get to see the countryside, which I never got to when I was in The Stones. All we saw was the airports, the hotels, and the gig."
At 74-years old, Wyman is certainly taking more time to soak up the scenery, but he's far from sedentary, also moonlighting with careers as an author, photographer, and even amateur archeologist. However, he'll put all those interests on hold for a 38-city European tour this fall alongside The Rhythm Kings and special guest collaborator Mary Wilson from The Supremes.
— Andy Argyrakis
For the complete interivew, click the November issue's cover thumbnail, or grab a copy free throughout Chicagoland.