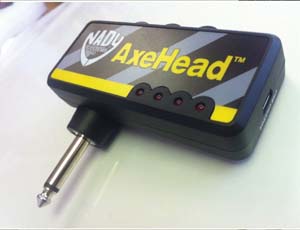 Nady Systems
AxeHead Portable Amp
Despite a flurry of portable guitar-amp apps aimed at iPhone and Android users, Nady Systems believes its new AxeHead portable amp has a place in your pocket.
The AxeHead is pocket-sized amp that plugs directly into your guitar or bass for instant, pro-sounding tone. It's a practice tool that eliminates the need for a larger-sized amp or effects unit. Players can listen through headphones (not included) and crank it up like Mom and Dad ain't never coming home.
AxeHead's built-in amp simulation allows you to tailor your tone from ultra-clean to heavy distortion. With virtually no set-up involved, you can sound like you're onstage at Metro while jamming in your bedroom, office, or dorm room. Early adopters have also said it's also great for warming up discreetly for a gig.
Set up is easy: just plug and play. An 1/8-inch Aux input jack connects to your MP3 player, CD player, or any compatible audio source so you can hear accompanying music while playing.
The AxeHead's internal rechargeable battery provides up to 15 hours playing time. To recharge, users can simply connect the supplied USB cable to your computer or an optional AC adapter.
AxeHead accessories include a headphone splitter (for 1/8-inch mini plugs) that allows two listeners at the same time; a 5-foot stereo audio cable (1/8 to 1/8) for connecting to an Aux music source; and a charging cable (USB to mini USB). Nady also offers an optional AC Adaptor for remote charging. No pricing was available at press time. Details can be found att www.nady.com.
Akai Professional
Analog Custom Shop Pedals
Best known for producing recording and DJ gear, Akai Professional is jumping into a higher-end of the pedal biz with its line of 10 Analog Custom Shop Guitar Pedals. Akai's aim is to compete against boutique-style pedal makers.
The fleet of stompboxes that make up the Analog Custom Shop line are Phase Shifter, Analog Delay, Blues Overdrive, Chorus, Compressor, Drive3 Overdrive, Deluxe Distortion, Flanger, Drive3Fuzz, and Drive3Distortion. "With the Analog Custom Shop pedals we are looking to bring 'boutique company sound' at a reasonable price," writes Glen Darcey, Akai Professional Product Manager. "We used the highest quality components in this line of guitar pedals to create the best tone possible." MSRP starts at $199. Visit www.akaipro.com for details.
Dr. Strings
Dr. Neon Acoustic Guitar Strings
As if guitar players don't demand enough attention already, Dr. Neon Acoustic Guitar Strings are raising the bar for spotlight-starved musicians by offering super-bright, color-coated phosphor bronze strings that glow in the dark under UV black light.
The Doctor says these new strings are "bright in daylight and, under stage lighting, they look like they are on fire."Besides their glowing effects, Dr. Strings' new K3 coating has been proven to last at least nine times longer than previous Dr. treatments. Only available at this time for acoustic guitars, they're offered in Hi-Def Orange, Hi-Def Pink, and Hi-Def Green in standard .11-.50 and .12-.54 gauged sets. Drop $9.99 per set; details can be found at www.drstrings.com
News and Notes
Rebeats, which many "Gear" readers know hosts the Chicago Drum Show each spring, is now hosting the Chicago Musical Instrument Road Show November 19th and 20th at theKane County Fairgrounds' Robinson Hall in St Charles. It's your chance to buy, sell, and consign your gear and get some great deals with some of Illinois' best instrument dealers and music-related vendors. Be sure to check out some live performances from various Chicagoland music talent, as well. Visit rebeats.com for info.
— David Gedge