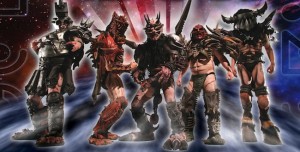 With only 10 days left in our Halloween sales event, we're giving away three entries at a time. This weekend only!
October 21st
One of the greatest deadpan lines in an IE interview came from Gwar overlord Oderus: "You humans are all about appearances." For several years, the band's intergalactic battles annually engaged Chicago on or around Halloween, so it's an honor that their graces have chosen the night of to celebrate with us in 2011. "It absolutely pains me to think about how pitiful and miserable everyone else is," he told us. "But it actually brings me joy." Gwar appear at House Of Blues on October 31st.
October 22nd
The scariest thing about Slipknot isn't the costumes or psychotically ferocious aggro/nu-metal, but their legions of Maggot fanatics who personify America's imminent demise.
October 23rd
Even if he hadn't recorded (and subsequently distanced himself from) the song that gives our issue its title, Al Jourgensen and Ministry (and Revolting Cocks and 1,000 Homo DJs, and Buck Satan, and . . . ) would have found their way here. Psalm 69 might be the ultimate Halloween album to please both goths and metalheads, and as for Jourgensen – well, just look at him. Rob Zombie and Trent Reznor have both surpassed him commercially, but that doesn't mean they both don't want to still be Al. Ministry appear June 28th & 29th at Vic Theatre.
Click the October issue's cover to read the full feature, or follow the tabs to Monthly –> Features for the previous entries.