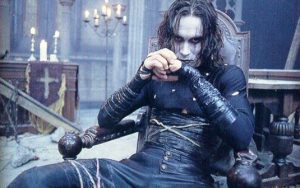 Not everyday of Everyday Is Halloween has to be an artist. It could be many artists, driven by the same ghoulish cause. (Or money. You never can tell.)
The '90s movie-soundtrack boom provided some wonderful mixtapes as cassettes faded away, but none so breathlessly captured a movie's look through music as The Crow's did. Opening with The Cure, it stalked along a tracklist that on paper (Stone Temple Pilots, Pantera, My Life With The Thrill Kill Kult) looks like a disaster but meshes seamlessly. Henry Rollins bellowing Suicide's "Ghostrider" like drunken, Danzig karaoke may have been a bridge too far, but Nine Inch Nails' cover of "Dead Souls" turned kids on to Joy Division years before anyone would arrive via Interpol. Brandon Lee got 14 bands for his funeral.
Click the October issue's cover to read the full feature, or follow the tabs to Monthly –> Features for the previous entries.