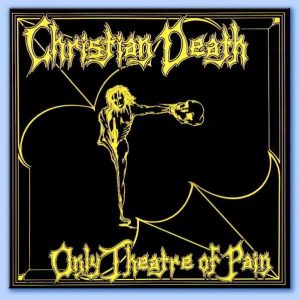 This Everyday Is Halloween's for ghoulish cover images everywhere, though no one's ever successfully recreated the most Halloween of all: a front lawn covered in cotton spiderwebs.
Oh, the perils of buying albums for their cover art. Thousands of metal fans raced home to put their styluses on Only Theatre Of Pain, only to learn that Christian Death were a pouty, moaning, post-punk mess. Draped in campy Satanic imagery and enthralled by candles, incense, roses, and corny backmasking, if you squint enough you could imagine Bob Mould making racket like this had he understood he was gay waaaay earlier. And also a vampire.
Click the October issue's cover to read the full feature, or follow the tabs to Monthly –> Features for the previous entries.