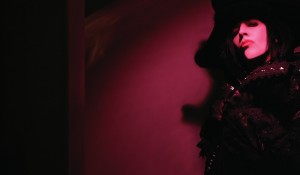 Nothing's shocking? After a flabby victory-lap tour with Slayer, Marilyn Manson looks to rebuild his mojo with a big budget and a set of needles to promote Born Villain.
Equal parts self-loathing industrial nihilism and Jim Rose Circus, Marilyn Manson couldn't be (have been?) more transparently manufactured yet delightfully entertaining. Were it not for a sleazy Eurythmics cover, we might not have gotten past step one, much less toward the speculation that he was really Paul from "The Wonder Years," or the reckless accusations that he was somehow responsible for the Columbine tragedy.
Click the October issue's cover to read the full feature, or follow the tabs to Monthly –> Features for the previous entries.