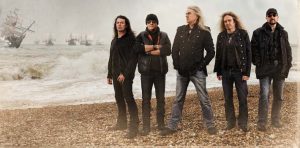 Saxon come to town on their 19th album; Wild Flag on their first. Yet which of the two are the real classic rockers?
Appropriate for a band whose "Denim & Leather" codified the dress code for the New Wave Of British Heavy Metal, Saxon's Call To Arms (UDR) serves up workmanlike stompers that sample assorted sections of the British band's long career. While still capable of serving up blistering numbers like opener "Hammer Of The Gods" — which thankfully limits any viking-metal excursions to the lyrics' invasion of England — and "Afterburner," but the band's stock-in-trade on this outing is the anthem. No matter which direction Call To Arms heads, Saxon return to the fist-pumping midtempo order of cuts like "Back In 79" (which references "Denim"), "Surviving Against The Odds," and "Chasing The Bullet." If ageing has made them insecure in the face of younger peers, they don't show it. Call To Arms has more vitality and bottle than Iron Maiden's latest slogfest, and says there's enough left for a 20th. (Saturday@Arcada Theatre with Borealis.)
The porchlight draw of Wild Flag to the boy moths in the rock press is the partial reunion of Sleater-Kinney, whose Janet Weiss and Carrie Brownstein (cable-TV star Carrie Brownstein) halve the band. Mary Timony — one of the first major-indie riot grrrls in the '90s with Helium — and Rebecca Cole (of Portland faves The Minders) complete the supergroup, whose self-titled Merge debut will hit closer to the heart of S-K fans than the band's swansong, The Woods, did.
While their pedigree as groundbreakers in male-dominated indie-rock remains unquestioned, somewhat surprising is Wild Flag as a vehicle for a victory lap. The criss-crossing guitar lines and slashing rhythms come directly from S-K, while Brownstein's clucks and yelps pop on cue. Weiss, perhaps from backing closet classic-rocker Stephen Malkmus, finds it hard to suppress tanker-sized Keith Moon-isms, which later manifest themselves as windmilled guitar chords. Timony sounds confident after a hit-and-miss solo career, adding a sense of cool where Corin Tucker always seemed anxious to trip the fire alarm. Wild Flag keep one hand on the shifter and a foot on the clutch through the 10 tracks, darting in and out but never in danger of crashing. "Something Came Over Me," which could have nestled into The Hot Rock, signals this change in personality succinctly: "Let the good times toll" gets repeated in the first couple minutes, before finding resolution into the traditional "roll." (Saturday & Sunday@Empty Bottle with Yellowfever.)
— Steve Forstneger
Category: Stage Buzz, Weekly