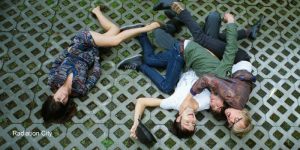 Another block of weekend shows features two illness benefits, the rebirth of Q101, Shayna & The Catch, and Radiation City.
For the second year running, Robstock — the brainchild of CPS teacher Robert Hosty Jr. — arises to benefit his MAKE Literary Productions Art Fund. The gathering runs from mid-afternoon until midnight and features a crammed music schedule highlighted by headliner The Des Plaines River Band and a brick of the Cardboard Sangria artists. The kids can get their faces painted and OD on french fries while you shout along. (Saturday@O'Sullivan's in Forest Park, with The Singleman Affair, Roommate, Kickbush, The Part Five, Fletcher Rockwell, Rock Falls, and Fifth World.)
The annual Leukemia & Lymphoma Society Lobsterfest/pig roast hits Batavia this weekend. While the charitable focus are the $40 and $50 plates, families who simply wish to stop by for music are welcome. Empty Can Band's David Glynn and Richie Van Harn will MC and play among several other (unlisted) acts. (Saturday@Polivka Farm (39W462 Seavey Rd.) in Batavia.) They'll also be around for the Paul Ruby Foundation benefit Concert For The Cure at Tanna Farms in Geneva with Dave Ramont & Friends, Forgotten Silence, Fresh Nuts, Gallery, Greg Boerner, HOSS, JBC Jazz Collective, Jeremy Keen, Noah Gabriel, and The Kevin Trudo + Meathawk, on the 27th.
Death cannot stop true love, it can only postpone it. Canadian hip-hop/rock wunderkind Redlight King headlines the first post-terrestrial Q101 showdown, as the brand transforms into an online/social-media presence. Backed by Matt Dubiel and Mike Noonan, the station is still online at q101.com and even sponsors this weekend's Blink-182/My Chemical Romance show with a contest. Redlight is a Chili Peppers-esque venture by Mark Kasperczk, who turned his failure to join the Canadian Olympic judo team into a Juno nomination. Also known as the first artist to be granted clearance to sample Neil Young ("Old Man" for a track of the same name), he'll be touting the recently released Something For The Pain. (Friday@Cubby Bear Wrigleyville.)
If the weather report holds true, this won't be the ideal weekend to enjoy a picnic and listen to Shayna & The Catch as was recommended to us. It's a good thing Martyrs' built a roof above its venue, however, so you can duck indoors and drape your blanket over one of their tables. (Sitting on it might be against house rules, though.) Lighthouse (4 Your) might not be the first album you'd peg to an outfit consisting of a native Malaysian (Shayna Zaid) and a Cuban refugee (Yan Izquierdo), although, like their breezy indie pop, the wind combines from the world over. (Saturday@Martyrs' with The Second, Castor & Pollux, and Bella Clava.)
How must the roster of the Apes Tapes label feel when the owners, Cameron Spies and Lizzy Ellison, say "fuck it" and start their own band? Naming themselves Radiation City could be a further stab at the music immediately surrounding them, not that you'd know from The Hands That Take You's understated, Yo La Tengo glow. (Saturday@Hideout with Esta Vivo and Whisker Music.)
— Steve Forstneger
Category: Featured, Stage Buzz, Weekly