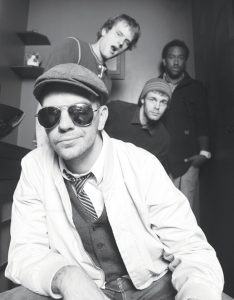 Mathien recorded their new, full-legnth album at PRESSURE POINT studios in Chicago. Studio co-owner/manager Chris Schneider sent Studiophile some impressive samples. The band continue their funk-influenced hip-hop and pop/soul on the new record. "Steve Kovacs mixed and engineered the record and Brian Cabby also did some of the engineering with me [Schneider] producing. The band were going for a more cohesive album, if you will; the last record – though great – was more of a collection of singles that came from demos that [namesake frontman] Mathien recorded by himself and then re-recorded here with the band. They have been touring over the last year and a half, and this is the result, a bit darker but more cohesive with some teeth and again more band-oriented, that's my take. They'll performing a few tracks live on July 8th with a full-blown show at House Of Blues. I have very good feelings about where this is going for the. Of course I am biased."
The debut 11-song CD, Bird Herd, by suburban Itasca artist Audubon Savant, is set to release in early July. Joe Moran wrote, arranged, recorded, produced, played all instruments, and sang all vocals. Dave Schreier of Dave's Music Studio in Wood Dale provided drum tracks, and engineered and mastered the pro-ject. The music is available online via iTunes and by request, in most outlets.
Chicago-based recording artist Mike Gallagher, Don Griffin owner of Brookfield-based Studio VMR, and DJ Corchin of Apple Inc. helped Gallagher cut new tracks last month.
Fierce Atmospheres, along with famed producer Neil Kernon, recently entered Chicago's Rax Trax studio to record a cover of Iron Maiden's "Children Of The Damned" for a release through Nashville label Versailles Records. The compilation is slated to be called Run To The Hills – A Millenium Tribute To Iron Maiden, and should be on sale everywhere later this year.
Brooklyn-based indie rockers The Avation Orange are relatively new but they have already caught the attention of well-respected, national indie tastemakers such as Under The Radar and Filter Magazine. They are poised to take it a step further in 2011 with East Of Here, the new self-released EP out August 9th. Recorded at former Smashing Pumpkins guitarist James Iha's Manhattan studio Strat-osphere Sound, bandmates Michael Nesci and Alex Beninato took helm of engineering and producing duties, bringing the band a renewed sense of focus and a matured sound. The band have been selected for Under The Radar's May 2011 free music sampler.
This just in From the EARS newsletter (the Engineering And Recording Society Of Chicago): Fran Allen's LJet Productions and Danny Leake's Urban Guerrilla Engineers joined forces yet again on the production of Chicago jazz/pop vocalist Joan Collaso's latest recording endeavor. Tracked at Blaise Barton's JoyRide Studio in Chicago, the OOO Whee (My Favorite Things) CD was released in May on the JRAS label. Produced by Collaso and Larry Hanks, mixing and mastering was done by Leake. Urban Guerrilla Engineers also mixed a 5.1 Surround mix and 2.1 mix of Usher Live At The 02 In London at the Chicago Record-ing Company. The project was done for Hank Neuberger's Third Wave Productions.
Category: Columns, Monthly, Studiophile