ilentertainer | Jun 14, 2011 | Comments 0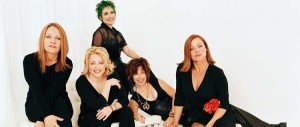 Beauty And The Beat arrived at a time when new wave was viewed as a refreshing alternative to mainstream rock, and the idea of an all-woman band writing and playing its own music was a novelty. Its success was sealed with an irresistible first single and a video that depicted a party on wheels. Like the debut from The Cars, The Go-Go's crafted an album that perfectly suited its era but still holds up. And as the "30th Anniversary Edition" proves, it's still fun.
"Our Lips Are Sealed" had the added benefit of a comforting message: it's the people who put you down who have a problem, not you. The high energy "Can't Stop The World" likewise promoted an independent spirit, while the second single "We Got The Beat" was an exhilarating invitation to have a good time. The Go-Go's showed traces of their punk roots on the harder-edged "This Town" and "Tonite," but other tracks, like "How Much More" and "Skidmarks On My Heart" were very much in line with the 1960s girl group sound of The Shangri-Las and Lesley Gore.
The "Anniversary Edition" includes a bonus disc of raw and slightly rushed versions of songs from the debut, recorded at a 1981 concert. "Vacation," which hadn't been released yet, is also featured, along with the inspired covers, "Cool Jerk" and "Let's Have A Party." (Friday@Ravinia Festival in Highland Park with The B-52′s.)
– Terrence Flamm
If a relentless sugar rush can't tempt you to the North Shore, perhaps a bowl of it can get you to Wicker Park. Lenka's sophomore set, incidentally called Two (Epic), couldn't be less restrictive in its school-girl gushing — a clear holdover from her self-titled debut. What's missing are both the Australian's accent and (at the onset, at least) the expansive arrangements (some 30 people, including Howie Day, played on its predecessor), which have been replaced by chillingly economical '80s arrangements on tracks like "My Heart Skips A Beat" and "Everything At Once." Lenka dutifully adapts, but faces an uphill battle to get anything but enthusiasm through the dense mix. She shouldn't have that problem live. (Friday@Subterranean with Elizabeth & The Catapult and Velvette.)
– Steve Forstneger
Filed Under: Stage Buzz • Weekly
About the Author:
Comments (0)